Watson & Co. Chartered Marketing celebrate Glenarm retaining WorldHost Destination Village Status in Recognition of their Commitment to Customer Service Excellence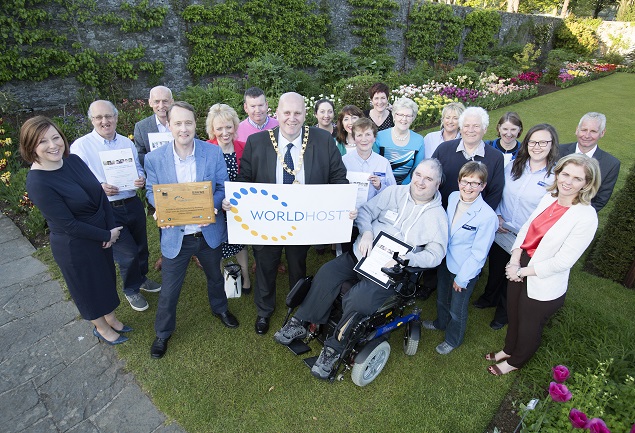 The stunning village of Glenarm has retained its prestigious WorldHost Destination status in recognition of the area's spectacular beauty, excellent customer service and unbeatable visitor experience.
The village was first awarded WorldHost Recognised Destination Village status in February 2016.
And following further
WorldHost training
carried out by businesses in the village over the past year, including
WorldHost Food NI Ambassador Training
by Watson & Co. Chartered Marketing – Licensed WorldHost Trainer: Christine Watson, Glenarm has been re-awarded the accolade by Tourism Northern Ireland for 2018.
The innovative initiative can apply to a city, town, tourist resort or shopping centre. It is designed to help attract new visitors to an area and build a profile as a tourist destination, which in turn will deliver a vital boost to the local economy.
The award was the result of successful collaboration between Glenarm Tourism, Mid and East Antrim Borough Council, Carrickfergus Enterprise and the team of Licensed WorldHost NI Trainers, who offered a wide variety of
WorldHost training courses
to businesses throughout the Borough.
These covered everything from specialist customer service for people from different cultures and with disabilities to sales training, and being an ambassador for your local area.
Mayor of Mid and East Antrim, Councillor Paul Reid, said: "Growing our economy and developing our tourism potential are key priorities for Council.
"By encouraging and inspiring our tourism and hospitality businesses to work together and with us we can truly showcase our fantastic tourism product here in Mid and East Antrim to a global audience.
"Situated along the Causeway Coastal Route, recently voted by Lonely Planet as the number one region in the world to visit in 2018, Glenarm has much to offer as a popular destination for visitors to stop at as they tour this beautiful stretch of coastline.
"Initiatives such as WorldHost Training and supporting the three tourism and hospitality cluster groups in the Borough are just some of the initial steps we have taken to help the industry.
"We all appreciate the importance of quality customer service in encouraging visitors to stay longer and spend more.
"In successfully completing WorldHost training, our hospitality providers are now armed with the knowledge and skills needed to better tailor services to visitors to ensure they receive a warm welcome and have an excellent experience during their visit to Mid and East Antrim.
"I would particularly like to acknowledge Glenarm Tourism and the businesses and community within the village who have succeeded in Glenarm retaining their WorldHost Destination Status."
The award is made to towns or villages where at least 25% of businesses have achieved WorldHost recognition by delivering excellent customer service to 50% or more of their customer facing team.
To find out more or to register your interest in future WorldHost training or business recognition and destination status,
contact us
.