Service Across Cultures
Our WorldHost Service Across Cultures programme will increase your staff awareness of other cultures and give them practical skills and advice to help them communicate effectively with visitors or clients from other cultures.
Making sure that your customers feel comfortable is a crucial part of the customer service process. But if there's a language barrier or cultural differences, it can be an awkward experience for staff and customers alike.
We will give your staff tips and techniques to help them provide a great service for all customers – from using appropriate gestures to avoiding the use of slang and jargon. We'll get them to think about their own cultural background too, and how that shapes their perception of others.
This programme is also great for improving internal customer service – especially in businesses that employ people from a wide range of nationalities and backgrounds. Businesses who have used this programme have reported better communication, understanding and working relationships within their own teams.
Course Content
The importance of customers with different cultures to your business
How their own culture and traditions can affect the view of others, and how to avoid making assumptions
Common myths about some of the UK's biggest overseas markets – and the truth behind them
Tips and techniques to help you communicate with customers if there is a language barrier
How to become a 'people to people ambassador'
Prices
Open programme: £60 per person
In-company programme: £650
Optional Extra – Vocational Qualification: £35 per person
No. of people per programme: Up to 15
Licensed WorldHost Trainer:
Chartered Marketer Christine Watson DipM MCIM is a People 1st accredited Customer Service and Digital Marketing Trainer and has a background in mystery shopping and business improvement spanning the past 17 years. She has successfully trained over 1,000 delegates.
Click here to read testimonials from past clients
Open training course dates are detailed at: https://www.watsonsmarketing.com/events/
To find out more contact Watson & Co. Chartered Marketing today by telephone: 07900 881146 or register your interest by email to: info@watsonsmarketing.com
The full WorldHost suite of training programmes is available to view here
To Book:
Download our WorldHost booking form, fill out and and return to us by email: info@watsonsmarketing.com.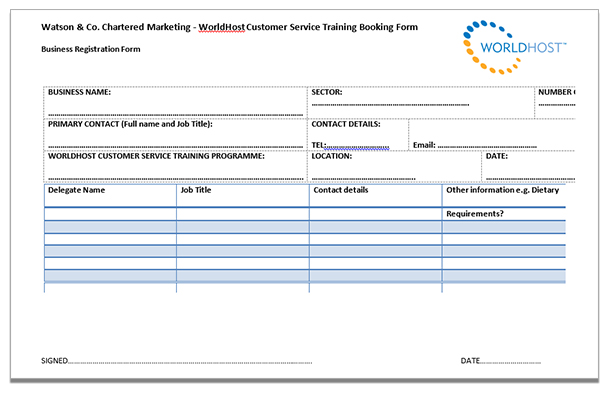 You can also download the pass criteria for the course below: