Get Blogging – Free 6 Week Evening Course for Libraries NI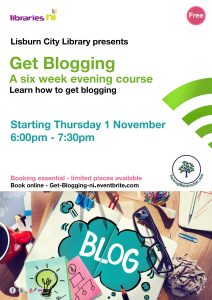 A team of TrainingMatchmaker.com trainers will be supported by local active bloggers to teach course participants not just what they need to know but provide real time examples of successful blogging practices, guide attendees through which tools are currently available to aid in the running and development of their blog and be on hand to offer practical help and support throughout the duration of the course.
Chartered Marketer at Watson & Co. Chartered Marketing – Christine Watson is one of your TrainingMatchmaker.com Trainers co-delivering the 6 week programme.
Course Modules Will Include:
● What is blogging?
● Getting started / the basics
● Creating, marketing and distributing your content
● Building audience, readership and engagement
● Commercialising and monetising
● Legals and ethics
● Measuring Success
● The costs of blogging
When:
Thursday evenings: 6pm to 7.30pm from 1 November 2018
Course Dates: November: 1, 8, 15, 22, 19 and December 6
This event is free to attend and is brought to you by Libraries NI in association with TrainingMatchmaker.com
Register online via Eventbrite
The capacity for this 6 week programme is 10 and a maximum of 15 individuals will be accommodated. A waiting list will be in place to try and accommodate any additional interest. If you can no longer attend the 6 week course please do take the time to free up your reservation. The organisers reserve the right to amend or cancel this event at any time.