About Us
Watson & Co. Chartered Marketing is a marketing consultancy and training company established by multi award winning and industry experienced Chartered Marketer Christine Watson in April 2005.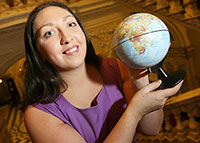 Christine and her team of talented Chartered Marketers and Licensed Trainers will work with your business to deliver creative and effective marketing and customer service solutions designed to deliver optimal results.
Passion, enthusiasm and an abundance of innovative, cost effective results driven ideas are sure fire every time you come into contact with a Chartered Marketer from Watson & Co. Chartered Marketing.
Our Services
Tailored to meet the unique needs of each of our clients our services include:
Providing leading edge Marketing Consultancy by Chartered Marketers
Customer Service Assessments and Accredited Training including

The People 1st WorldHost Training Suite of Programmes:

Principles of Customer Service
Sales Powered by Service
Customers with Disabilities
Ambassador – Tourism: Welcoming Visitors to their Destination
Service Across Cultures
Principles of Supervising Customer Service Performance

Digital Business Skills Training
Centre for Competitiveness Gold Star Assessment

Conducting Primary and Secondary Research
Delivering Insightful Marketing and Customer Service Audits
Devising Innovative Results Driven Marketing Plans
Achieving Public Relations including Press Coverage and Local Community Brand Engagement
Business Mentoring and Trouble Shooting
Development of Business Growth Plans
Our mission is simple, it's really very cut and dry – we exist to add value to your business!
Having successfully trained over 1,000 delegates to date and with hundreds of satisfied clients you can find our client experience and testimonials here
Watson & Co. Chartered Marketing | Tel: +44 (0) 7900 881146