WorldHost Recognition
By training 50 percent or more of your front-line staff using any of the WorldHost customer service training programmes, you can become a WorldHost Recognised Business.
When you become WorldHost recognised, the Northern Irish Tourist Board (NITB) send you an official certificate and stickers to show off in your business and a badge for you to display on your website.
When customers see the WorldHost recognition logo displayed in your business, they will know that you have made an investment in giving them a great experience, and that your staff will give them the attention and service that they deserve.
WorldHost recognition is the 'must have' badge for customer service. It's a great way to attract new business and get your existing customers to keep coming back – delivering a real boost to your bottom line.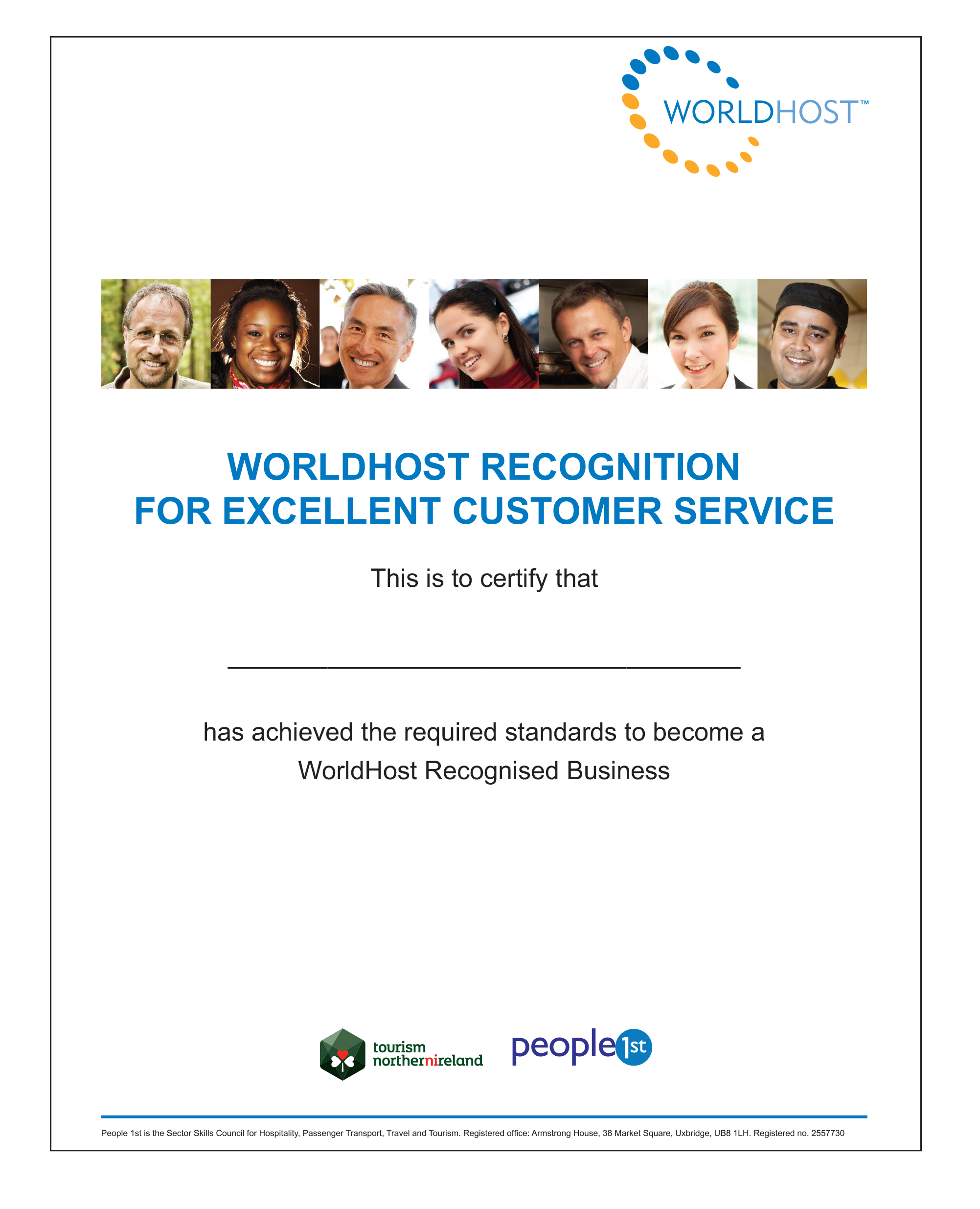 Benefits of becoming a WorldHost Recognised Business
By becoming a WorldHost Recognised Business you will:
Be able to display the WorldHost recognition logo to your customers and on your website – you can even purchase a plaque to take pride of place in your business!
Have your business promoted on the WorldHost website as one of the best places to visit for a warm welcome
Create a PR opportunity for your business – let your local media know that you've been recognised for great service!
Make sure that all your staff are trained in the art of customer service, creating a culture of excellent service in your business
Give your staff the opportunity to achieve a nationally-recognised qualification in customer service, building their motivation and loyalty
Show your team that you are willing to invest in their development – and a happy team means happy customers!
The WorldHost Recognition Certification is valid for two years and is renewable on completion of a refresher course
To download the WorldHost Recognised Business form click here
If you are a retail business, please download the WorldHost Recognised Business form for retailers here