WorldHost Customer Service Training

Customer Service Training
Watson & Co. Chartered Marketing provides WorldHost – world class customer service training to customer facing staff in businesses across Northern Ireland, England, Scotland and Wales. International delivery is also available for English speaking organisations.
Over one million customer-facing staff globally have been trained on WorldHost customer service programmes. WorldHost was first developed in Canada to train 40,000 volunteers and front-line tourism staff for the Vancouver Winter Olympics in 2010. The programme has since been successfully launched in the UK by People 1st, supported by VisitEngland, and was used to train 200,000 customer-facing staff at the 2012 Olympic and Paralympic Games and other world-class events, including the 2014 Ryder Cup, the Commonwealth Games, and the 2015 Rugby World Cup.
Tourism Northern Ireland has endorsed the programme in Northern Ireland with delivery to over 20,000 service professionals in the tourism and retail sectors.
The WorldHost programme is modern and energetic offering a comprehensive training toolkit and topical DVD and CD case study scenarios. It can be used across a wide variety of industries where the quality of customer service is key to the success of business.
Programmes we offer: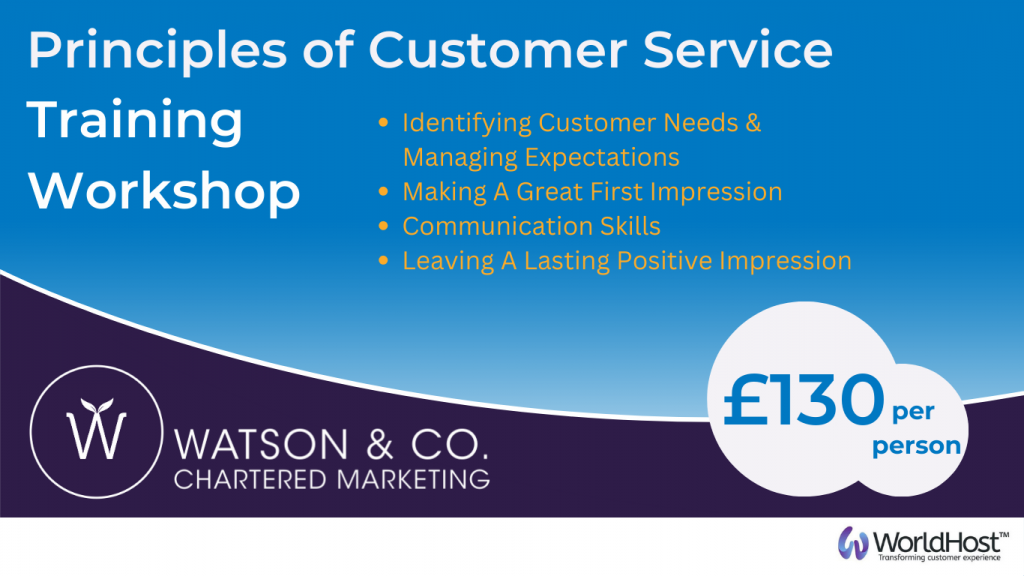 Principles of Customer Service Workshop – Investment: £130 per person

Bespoke in-house options available
£1,950 + VAT for up to 15 people*
*Above fees include WorldHost Training Materials, Course Delivery, Digital WorldHost Certificate and ebook, however, we would be happy to source and provide catering and a suitable venue should this be required.
To find out more contact Watson & Co. Chartered Marketing today by telephone: 07900 881146 or register your interest via our Contact Us form
Open training course dates are detailed at: https://www.watsonsmarketing.com/events/
Funding:
Northern Ireland –
Invest NI offer a Skills Advancement Grant – Invest NI client companies can qualify for up to £15,000 for staff training. This grant will cover 50 per cent of eligible costs – external training, travel and accommodation and is available to small companies that are exporting or are ready to export. The minimum training expenditure supported is £2k (£1k grant).
Watson & Co. Chartered Marketing have provided this information to the best of their knowledge. Please visit https://www.investni.com/support-for-business/skills-development for the most up to date information and funding queries