Digital Business Skills Training Course
Our Digital Business Skills – digital marketing training programme has been developed in partnership with the People 1st, National Skills Academy for Retail and Association of Town and City Management (ATCM).
The Digital Business Skills training course aims to equip businesses with the skills they need to fully exploit the internet and the array of digital marketing channels available at their fingertips.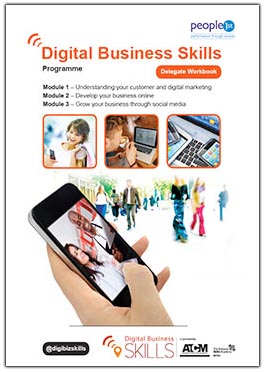 Whether you're completely new to the online world or just want to learn how to use it better, we'll take you through the process step-by-step and build your confidence, so you can start making the Internet work for you and your business.
Find out more about the programme on PowToon video created by Watson & Co. Chartered Marketing Digital Business Skills Graduate: Julia Smetek
The programme is split into three modules each of which take half a day to complete.
Module 1 – Understanding your Customer and Digital Marketing 
In this module, we take you through how to make your business available in the digital world and give you real examples and strategies to use to build a profitable digital presence.
Introduction
Have a visible and viable business online
Tell the customer what you sell
Know your customer
Lifetime value of a customer
Understanding the 7 Ps
Digital brand and visual identity
Digital advertising and promotions
Digital marketing strategy and plan
Email Marketing
Module 2 – Develop your business online
In this module. we help you avoid costly mistakes, take away the jargon and equip you with top tips for success.
Introduction
Resources you need
Your online presence
The first 5 second welcome
Make it easy to buy
Online multi-channel options
Search Engine Optimisation (SEO)
Countdown for getting your business online or re-launching it
 Module 3 – Grow your business through social media
In this module, we take you through the world of social media. We will explain to you what social media is, why it is important and how to use it in your business.
Introduction
The future of social media
Why use social media for business
Social media jargon
Risks of using social media for business
How to use social media to market your products and services
Social media strategy
Content is key
Cost:
£255 per person
In-house training programme: £2,550*
*Maximum number of delegates: 10
Optional extra: ICQ Level 2 Award in Digital Marketing Using Social Media qualification £75 per person
Open training course dates are detailed at: https://www.watsonsmarketing.com/events/
Further information is available at http://www.people1sttraining.co.uk/programmes/online-and-digital-skills
Your Trainer 
Chartered Marketer Christine Watson DipM MCIM is a People 1st accredited Customer Service and Digital Marketing Trainer and has a background in mystery shopping and business improvement spanning the past 17 years. She has successfully trained over 1,000 delegates.
Click here to read testimonials from past clients
To register your interest and be added to the reserve list for our upcoming Digital Business Skills training events contact:
E: info@watsonsmarketing.com
T: 07900 8811469