My WorldHost Journey with Watson and Co. Chartered Marketing and McCombs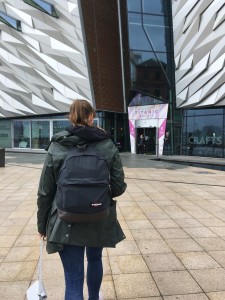 On 11 June 2018 I started an Erasmus traineeship in Belfast with Chartered Marketer and WorldHost Trainer Christine Watson of Watson and Co. Chartered Marketing. As a WorldHost Trainer Christine delivers Tourism Ambassador training courses to people working across the tourism industry in Northern Ireland.
Watson and Co. Chartered Marketing has over 1,000 clients and WorldHost Trainer Christine is very passionate about the many things to do and see across Belfast and wider Northern Ireland.
After my induction Christine encouraged me to take a trip to Visit Belfast to research the things I wished to experience during my stay in Northern Ireland. She also gave me a magazine book: The Visit Belfast City Guide.
I made a wish list – my must see attractions in Northern Ireland included:
Watson & Co. Chartered Marketing has delivered WorldHost training to: Queen's University, Titanic Museum, Belfast City Hall, St Georges Market, Belfast Cathedral, City Sightseeing and Parliament Buildings, Stormont. They have also trained numerous organisations in Newcastle County Down and the McCombs Travel coach that takes visitors to the Giant's Causeway as well as the National Trust who manage the Giant's Causeway and the Carrick-a-Rede Rope Bridge.
Following a business lunch I went with Christine to visit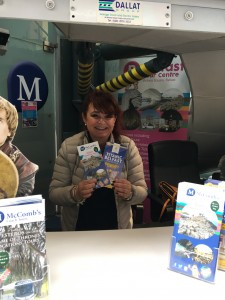 Victoria Square Dome – we rode the elevator to the top of the Victoria Square Shopping Centre to get an overview of Belfast. The birds eye view included sketched descriptions of each attraction that you could see through the glass domed ceiling
On the ground floor of Victoria Square we stopped at McCombs information centre and chatted to one of Christine's WorldHost customer service training graduates.  She advised to buy a Combi Ticket to save money. The Combi Ticket offered the opportunity to get a Tour to the Giant's Causeway as well as admission to the Titanic Museum.
Titanic Belfast has been awarded: World's Leading Tourist Attraction and is another of Watson and Co. Chartered Marketing's WorldHost clients. Jamie, who now works in HMS Caroline completed the WorldHost customer service for customer with disabilities course with Watson and Co. Chartered Marketing on board the SS Nomadic in Titanic Quarter.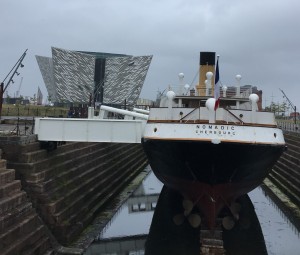 On Sunday 17 June I took a trip to the Titanic Museum in the Titanic Quarter area of Belfast. The exhibition explores the myth and mystery of the infamous ocean liner, called Titanic. Belfast was one of the most important shipbuilders in the world. The Titanic was built from the biggest shipyard in the world, Harland and Wolff. William James Viscount Pirrie was the leader of Harland and Wolff. You can spend a lot of time at the museum and gain a lot of information about the Titanic. The staff provided head pieces to allow me to hear from a specialist in every room. Visitors get the chance to choose between languages, I chose German.
How to get your entry ticket to Titanic Museum in Belfast City Centre?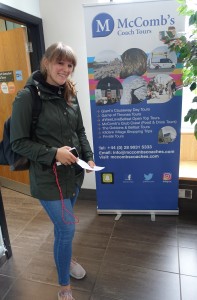 McComb Luxury Travel have a ticket sale kiosk in the Victoria Square Shopping Centre. Find it on the ground floor near House of Fraser. Christine Watson one of the WorldHost Ambassadors in Northern Ireland and Founder of  the website TrainingMatchmaker.com asked for advice for my  trip and the service professional (who had completed the WorldHost training programme) showed us the offers for a tour to Giant's Causeway and the Titanic museum. She advised us to buy a combi ticket that included both attractions. McComb Luxury Travel is a WorldHost Business recognised for excellence in customer service, having trained at least 50% of their customer facing staff in WorldHost.
How to get to the Titanic Museum
You can walk from Belfast city centre to the Titanic museum. There is a Titanic Trail with some signs to find the way. Your journey on foot will take about 10 to 15 minutes. On your way you can see the Big Fish, the Albert Clock, the statue: Beacon of Hope which locals have named the 'thing with the ring', Titanic Hotel, the Harland and Wolff Cranes and the SS Nomadic Ship, which is also built by Harland and Wolff. You walk through the Titanic Quarter, which is a WorldHost Hotspot Destination recognised for excellence in customer service. Watson and Co. Chartered Marketing trained lots of businesses in this area of Belfast in the WorldHost Principles of Customer Service and Tourism Ambassador courses and helped Titanic Quarter achieve Hotspot status. Top Tip: The Admission to the SS Nomadic is included in the ticket for the Titanic Museum – so make sure you leave time to experience both. Before you enter the museum you really have to take a picture with the Titanic Sign located at the front entrance.

When you start your tour through the Titanic Museum galleries (with your head piece on if you want guided) you get an overview about everything in context of the Ship 401 from Harland and Wolff. You also have the opportunity just to read the prepared texts under the pictures, but only in English. For me I can say that I really enjoyed being accompanied by an expert, it is quite easy to follow the way and find the numbered signs for your head piece so that you can listen to the relevant content in each section.
MY HIGHLIGHTS: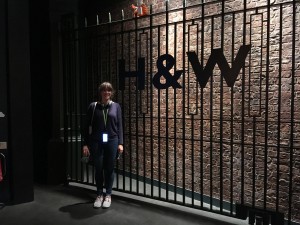 TOP TIPS:
Buy a combi ticket to see Giant's Causeway, Titanic Museum and SS Nomadic
Sit always behind the Bus-Driver on a Giant's Causeway Bus-Tour with McCombs Luxury Travel so that you get to see the famous Antrim coastal road – the driver's side of the coach has the seats with the best view!
About Me: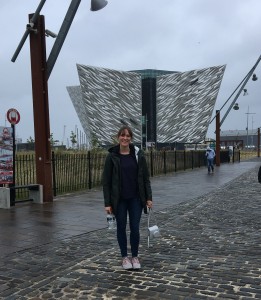 My name is Franziska (Franzi) Dochan and I am 20 years old. I am from Germany near Berlin and my company which is located in Potsdam gave me the chance to get new experiences in Belfast, Northern Ireland, as an Erasmus Trainee. Erasmus is an educational programme which offers trainees financial aid for their foreign traineeship. The Traineeship should improve my English skills and my self-confidence as well. My tasks here in Belfast at TrainingMatchmaker.com and WatsonsMarketing.com were very different to my job in Germany, which is administration for health insurance claims but I attain knowledge for my life and enjoy being challenged to develop my skills.
About Erasmus:
The Erasmus Programme (European Region Action Scheme for the Mobility of University Students) is a European Union (EU) student exchange programme established in 1987. Find out more at: www.erasmusprogramme.com