Crash Course on Sales Focused Instagram Marketing for Business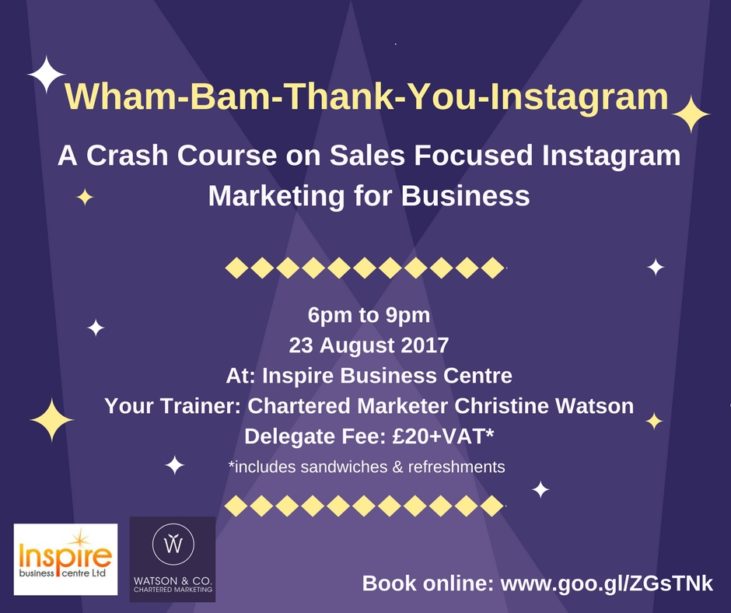 Wham-Bam-Thank-You-Instagram – a Crash Course on Sales Focused Instagram Marketing for Business
Date: Wednesday 23 August 2017
Time: 18:00-21:00
Location: Inspire Business Centre Ltd
Description:Come along to Inspire Business Centre on Wednesday 23rd August from 6-9pm to learn how to use Instagram for Business.  This can be a very powerful marketing tool if used correctly.
The Instagram for Business session is set to cover:
Instagram Users
Best Practice in Instagram for Business from over 15 million business accounts on Instagram
Competitor Insights – Practical Activity
How to Use Instagram to Grow Sales – Practical Real Life Examples
Setting your Strategy, Objectives and Metrics
Your Target Audience
Step by Step Guide to setting up your Instagram Business/Brand Page

Top Tips (integration with website/other marketing – business cards, banner stands etc)
Branding
Description Copy and Calls to  Action
Common Mistakes to Avoid

Creating Engaging Business and Target Customer Relevant Instagram Content

Hashtag research
No Hard Sell here
Branding
Tone
Content Guidelines: Ad Sizes, Image Standards and the Text Rule
Photos
Instagram Layout
Sharing multiple pictures in the one post
Videos
Boomerang
Instagram stories (24 hour lifetime)
Promotions / Competitions
Calls to Action
Auto feeds into other social media
Engagement (comments)
Growing sales through Instagram Advertising
Analytics and Insights
Content marketing management
Content marketing matrix
Scheduling
Sample contennt calendars
Sourcing content and using it legally
Repurposing content
Curating content
User generated content
Action man and wonderwoman
Amplification strategies – traditional and digital PR and microinfluencers
Please note that this is not an exhaustive list and it is all covered in brief over a 3 hour timeline
Your trainer – Chartered Marketer Christine Watson reserves the right to add to the above learning objectives based on Instagram changes that may occur between now and 23 August and/or light bulb moments between now and then!