Digital Sanity Supper Club does Festive Afternoon Tea
Digital Sanity Supper Club IV at Malmaison Hotel, Belfast facilitated by www.TrainingMatchmaker.com and Watson & Co Chartered Marketing Founder: Chartered Marketer Christine Watson
Given the last Monday in December is Christmas Day and… for your own sanity… we fully expect you to be tucking into your Christmas Turkey leftovers rather than co-sharing know how with your local community of Digital Marketing Practitioners and Trainers we've decided to mix up our Digital Sanity Supper Club plans for the finale month of the Year. So Digital Sanity Supper Club does Festive Afternoon Tea at the Malmaison Hotel, Belfast for you on 18 December 2017. Along with a co-created take away of all the key digital marketing strategy and tactical platform changes throughout the year do expect to eat, drink and be Merry.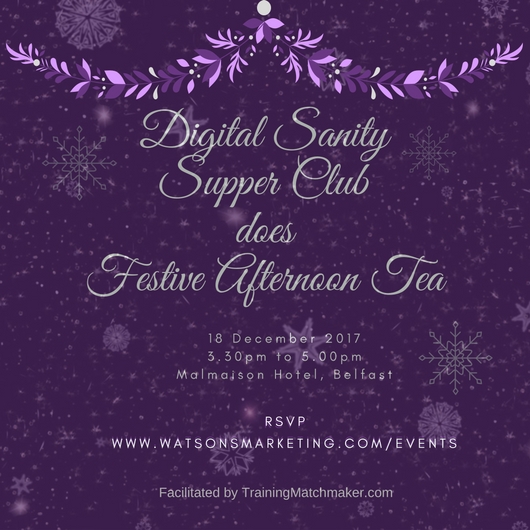 Digital Sanity Supper Club does Festive Afternoon Tea at Malmaison
Join your local community of digital marketers at the fourth in a series of Digital Sanity Supper Clubs on 18 December 2017 from 3.30pm to 5.00pm
Agenda
3.30pm: Registration, Festive Afternoon Tea and Networking
Informal Discussion: Changes in the Digital Landscape for the whole of 2017
Speaker: Everyone and Anyone – with an objective to Eat, Drink and Be Merry we will replace the Soap Box Slot Speaker Session in December with a Handy Takeaway of 2017 Digital changes that we hope you will help us create
We'd also love you to think about any Applied Learnings from our Pilot Digital Sanity Supper Club Programme in Belfast
5pm: Close
After 5pm: Community Members will be welcome to enjoy drinks in the Mal Bar
About the Digital Sanity Supper Club:
Running on the last Monday of each month the Digital Sanity Supper Club is designed to brief practicing Digital Marketers and Trainers on the various changes that have been made to each of the main digital/social media platforms over the course of the previous month. Along with a 2 course supper this networking opportunity is designed to help you connect with like-minded individuals working in digital marketing roles, this club will also offer one Soap Box speaker slot to a Digital Marketer who has implemented one of the latest changes from the month previous. This 'in practice' case study will cover: what they did, when, who they targeted, why, how they did it, the return on investment, lessons learned and whether they would recommend others following suit.
Venue:
Malmaison Hotel, Belfast
Supper:
Your ticket includes a Festive Afternoon Tea in the Private Dining Room at Malmaison Hotel, Belfast
To Book:
Your place is confirmed on receipt of payment. In order to secure your place payment is required in advance.
You can book online via Eventbrite:
Investment – £25 per person
https://digital-sanity-supper-club-belfast.eventbrite.com
Return on Investment Priceless it's all down to you and what you do armed with knowledge on the latest tactics available to you in your digital marketing toolbox
Is your marketing ahead of the curve?
Keep your skills and knowledge up to date with the Digital Sanity Supper Club
Facilitated by: Founder of new platform TrainingMatchmaker.com and Watson & Co. Chartered Marketing Licensed Trainer and Chartered Marketer: Christine Watson
Sponsors:
Sponsorship opportunities are available to enquire or express your interest in sponsorship packages or to host a future Supper Club please contact us directly
*This is a pilot programme aimed to be co-created by the local marketing community and is open to change based on user feedback
A private facebook group is available to enable our Digital Sanity Supper Club Members to keep the learning and insights conversation going in between supper club events. This group is open to attendees of the Digital Sanity Supper Club only.