The Secret To Creating Fab Food Photos That Drive Business – Mid and East Antrim Borough Council – 5 March 2019

Learning Opportunity: The Secret To Creating Fab Food Photos That Drive Business
Learn to supercharge your business marketing activity by creating and taking compelling food photography on your smart phone.
Find out how to maximise your photos for social media and more whilst utilising traditional marketing tactics to boost your business online.
Event Date: Tuesday 5th March 2019
Training Venue: Ballygally Castle, Ballygally, Co Antrim
Time: 10.00am – 4.30pm
You will learn:
– How to create and take compelling food photography on your smart phone
– Why you don't need expensive equipment
– What makes a photo Instagrammable
– The secret to getting shared and going viral
– Best practices
– Finding and using hashtags to amplify your content
– Why you NEED a content library
– Discover how to get your photos found on Google search
– How to become a visual storyteller
– What digital channels you can use to distribute your photos on
– Using traditional marketing tactics to supercharge your online presence
– Quick cheats for turning your photos into video in mere minutes
Delegates can expect to:
– Create ready to use photos during the workshop
– Develop their content library
– Be more confident about maximising their online footprint
– Understand the digital landscape better
– Be able to leverage visual storytelling to entice customers into their business
– Learn from a professional photographer
You will need:
– A smart phone
– Food produce for your practical session
– Props (optional but advisable)
The Secret To Creating Fab Food Photos That Drive Business is a free Mid & East Antrim Borough Council course delivered by TrainingMatchmaker.com trainers: Chartered Marketer and digital skills trainer Christine Watson from Watson & Co Chartered Marketing and publicist/journalist Tina Calder of Excalibur Press & The Content Club.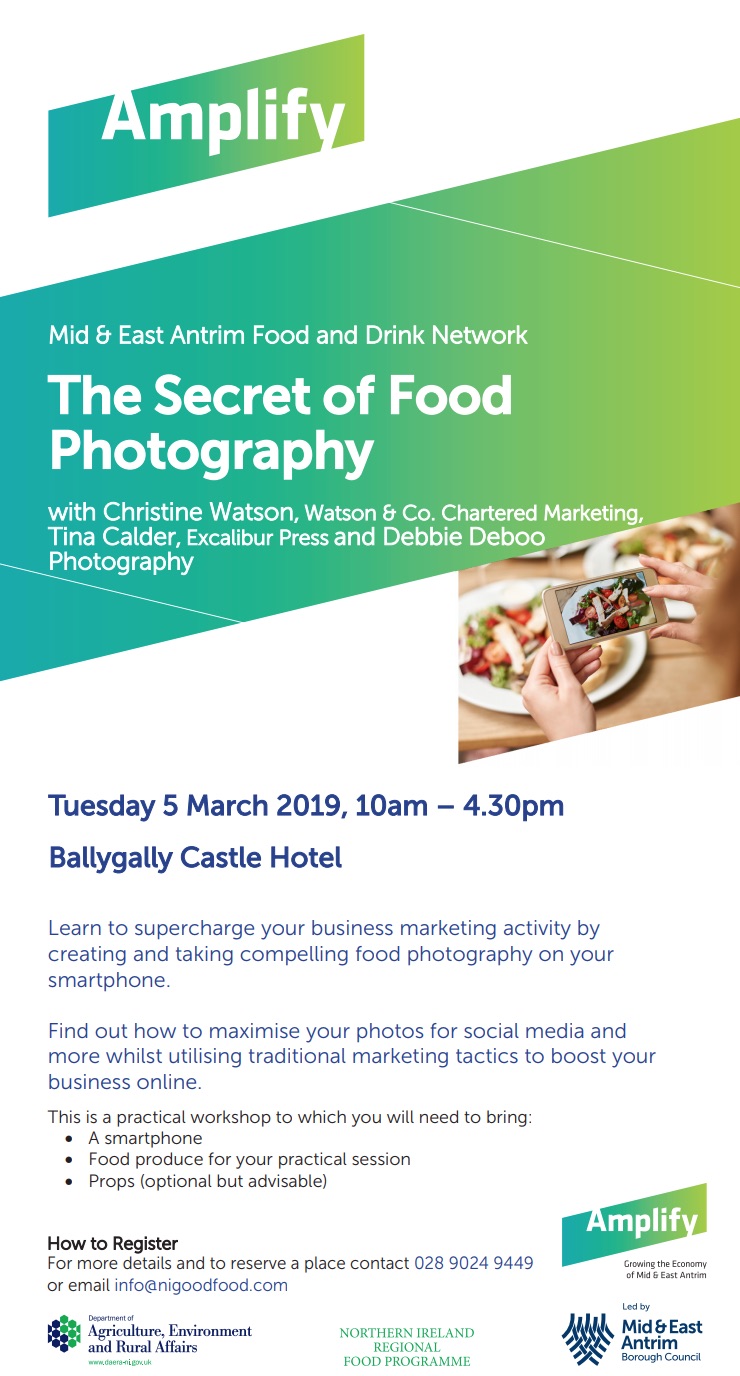 Bookings via: FoodNI for Mid & East Antrim Borough Council – telephone: 028 9024 9449