Instagram for Business – Marketing in Practice Examples from Northern Ireland Brands
With over 15 million businesses on Instagram as of July 2017  (up from 8 million in just 4 months) Watson & Co Chartered Marketing Chartered Marketer – Christine Watson takes a look at some Instagram for business examples provided by Northern Ireland brand marketers and the lessons we can all take from their content marketing efforts:
Business to Consumer
1. Discover Northern Ireland – @DiscoverNI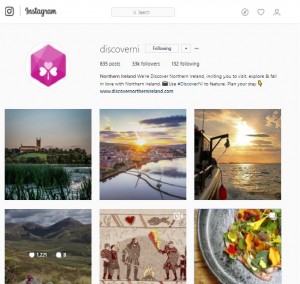 835 posts
Description/Biog:
Northern Ireland
We're Discover Northern Ireland, inviting you to visit, explore & fall in love with Northern Ireland. 📸Use #DiscoverNI to feature. Plan your stay 👇www.discovernorthernireland.com
Engagement on latest content ranges from 151 to 1,221 hearts (or likes)
Practical Lessons:
Use of hashtags – Discover NI encourage user generated content to include the prescribed hashtag (as stated in their Instagram description) #DiscoverNI. There have been 

115,582

 posts to Instagram using this hashtag. Discover NI also use #NorthernIreland and other hashtags such as #Travel #TravelTuesday and location based such as #Derry #Londonderry #CountyDownand affiliates eg  #VisitDerry
Search engine optimised Instagram descriptor – Use of relevant keywords/key phrases eg. 'Northern Ireland' and the brand: Discover Northern Ireland as well as inclusion of the relevant website url for the brand in order to drive instagram traffic to the website  eg. www.discovernorthernireland.com
User generated content – sometimes referred to as Regramming or Regrams eg. discoverni🌅 Summer evenings in the city, who knew they could be so peaceful? A walk across the Foyle River seems like the perfect way to end the day👌🏻 Thanks for the great photo @cinematic_sky #discoverni#northernireland #derry #londonderry#travel #visitderry
The Content Originator @cinematic_sky commented to Discover NI "Thanks for the share 😁" and I assume didn't charge for the great content they provided Discover NI for their instagram platform.
2. SuperValu NI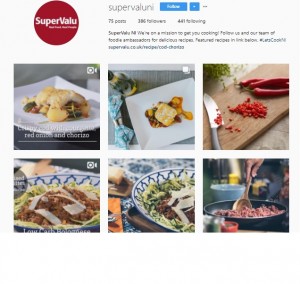 75 posts
Engagement – latest engagement ranges from 14 to 39 hearts or likes
Practical Lessons:
Content Marketing Focus: Recipes. This makes sense in that recipes require ingredients and with Supervalu stores selling said items, the objective of Instagram could very well be to drive footfall into stores or indeed to promote specific food suppliers as part of a brand education strategy focused on local produce
Brand Hashtag #LetsCookNI. Other Hashtags utilised: #FoodNI #NIFood #TasteNI #SuperValuNI #EatLocal #NorthernIreland
Instagram images have a professional polished look and feel with copy descriptors embedded over photo/video content – a free tool to use to achieve this kind of effect is Canva. It is interesting to note how Instagram users feel about and react to polished marketing images on the platform in comparison to 'on the hop' or 'in the moment' quality imagery/videography which could be deemed more instant and authentic and less 'salesy'.
3. Khara Pringle – Photographer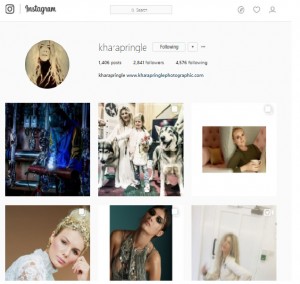 1,406 posts

Description/Biog:
Engagement:
Latest engagement ranges from 7 hearts/likes to 564.
Practical Lessons:
Photography portfolio shots taken for client brands featured alongside behind the scenes footage. Understandable given certain clients may not wish for photos to be released 'in situ' given communications embargos but offers a flavour of the range of professional photography offered as well as demonstrates the quality of the end product
Use of Instagram slideshow feature i.e. where you can post up to 10 photos in one Instagram post
Use of Boomerang to create short burst moving imagery – mini videos that loop back and forth
Instagram accounts were reviewed on 15 August 2017 and these are not necessarily the Northern Ireland brand accounts with the largest following or engagement – just a few contributors that demonstrate Instagram marketing in practice that we can all take lessons from. Do feel free to share with us your favourite business or brand Instagram accounts – you can chat with us on Twitter and Facebook
If you are not yet on Instagram or don't yet see results from your Instagram marketing you can join our Instagram for Business workshop at Inspire Business Centre from 6pm to 9pm on 23 August. Tickets can be booked online via: Eventbrite
Investment: £20+VAT
The jam packed session will cover:
Instagram Users
Best Practice in Instagram for Business from over 15 million business accounts on Instagram
Competitor Insights – Practical Activity
How to Use Instagram to Grow Sales – Practical Real Life Examples
Setting your Strategy, Objectives and Metrics
Your Target Audience
Step by Step Guide to setting up your Instagram Business/Brand Page

Top Tips (integration with website/other marketing – business cards, banner stands etc)
Branding
Description Copy and Calls to Action
Common Mistakes to Avoid

Creating Engaging Business and Target Customer Relevant Instagram Content

Hashtag research
No Hard Sell here
Branding
Tone
Content Guidelines: Ad Sizes, Image Standards and the Text Rule
Photos
Instagram Layout
Sharing multiple pictures in the one post
Videos
Boomerang
Instagram stories (24 hour lifetime)
Promotions / Competitions
Calls to Action
Auto feeds into other social media
Engagement (comments)
Growing sales through Instagram Advertising
Analytics and Insights
Content marketing management
Content marketing matrix
Scheduling
Sample contennt calendars
Sourcing content and using it legally
Repurposing content
Curating content
User generated content
Action man and wonderwoman
Amplification strategies – traditional and digital PR and microinfluencers
Please note that this is not an exhaustive list and it is all covered in brief over a 3 hour timeline
Your trainer for the Instagram workshop – Chartered Marketer: Christine Watson reserves the right to add to the above learning objectives based on Instagram changes that may occur between now and 23 August and/or light bulb moments between now and then!