InstaMeet – a Content Creation Bootcamp for Business Instagrammers – 8 September 2017
Join like minded Instagram for Business practitioners at a one day bootcamp designed to set you up with your Instagram strategy, objectives, content themes and actual content for the year ahead. Delegates will also be encouraged to pre-programme or draft the distribution of their new content using free tools such as Hootsuite or Buffer to allow Agile marketing to be the only concern in busy day by day schedules.
Facilitated by Award winning Chartered Marker and Licensed Trainer Christine Watson, supported by Author, Story Teller and Award winning Features Journalist – content specialist Tina Calder you will be provided with step by step instructions, templates, links to how to guides, online help zones and thought provoking advice to cram all your content creation over the course of one day.
Coffee will be unlimited – ideas should be too. Please come with an open mind.
This Intensive Bootcamp is not for the faint hearted and is designed to show you one of the many ways of working smarter, not harder, in order to deliver engaging and compelling content, focused on meeting business objectives, to your tribe of Instagram followers in a regular pre-planned way.
If you still need to decide whether Instagram is suitable for your business – this bootcamp is not for you but do grab a cuppa tea and take the time to read our latest Instagram blogs to see if your opinion changes!
Venue: E-Spark, 6th Floor, Lombard Street, Belfast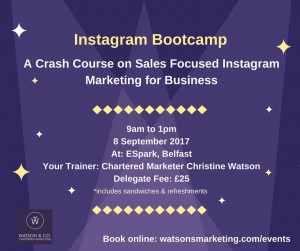 A Crash Course in Sales Focused Instagram for Business
Duration: 3.5 hours
Investment: £25
This morning session (9.30am – 1pm – Registration and morning coffee from 9am) is designed as an Instagram for Business beginners course and will introduce you to the Instagram Business infrastructure alongside the various tools, techniques and apps you can use to launch or improve your Instagram business page.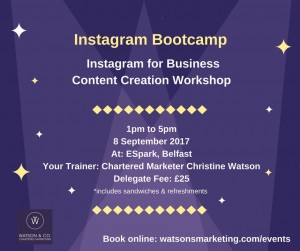 Intensive Instagram Content Creation Bootcamp
Duration: 3.5 hours
Investment: £25
This afternoon session (1.30pm – 5pm – Lunch served 1pm) is designed to encourage you to work intensively to create and pre-programme engaging and compelling content for your Instagram Business page.
Full Day (Both Sessions): £50
Added Value:
Expect to network with like minded Business Instagrammers – business owners, managers, marketers and those in Northern Ireland with responsibility for devising and rolling out marketing, digital marketing and social media marketing strategies and tactics.
Expect all your social media channels to benefit from the time you will invest in this Bootcamp.
A light lunch and refreshments will be provided including unlimited tea and coffee – if you have any dietary requirements do let us know in advance.
InstaMeet has been inspired by Instagram #WWIM16 which takes place worldwide over the weekend of 8th to 10th September 2017. InstaMeet aims for communities to get together and explore their creativity and connect with others around a theme that unites us all – Kind Comments.
To Book:
Booking is confirmed on receipt of payment. Payment must be made in advance
You can pay via Eventbrite:
https://instameet-belfast-business-instagrammers-bootcamp.eventbrite.com
Full Day: £50 + Eventbrite fees
Half Day Morning Session: £25 + Eventbrite fees
Half Day: Afternoon Session £25 + Eventbrite fees
Terms and Conditions Apply for any late cancellations or no shows
Crash Course in Sales Focused Instagram for Business 
Full Description:
Come along to ESpark Belfast on 8th September for our InstaMeet from 9am-1pm to learn how to use Instagram for Business.
This can be a very powerful marketing tool if used correctly.
The Instagram for Business session is set to cover:
Instagram Users
Best Practice in Instagram for Business from over 15 million business accounts on Instagram
Competitor Insights – Practical Activity
How to Use Instagram to Grow Sales – Practical Real Life Examples
Setting your Strategy, Objectives and Metrics
Your Target Audience
Step by Step Guide to setting up your Instagram Business/Brand Page

Top Tips (integration with website/other marketing – business cards, banner stands etc)
Branding
Description Copy and Calls to  Action
Common Mistakes to Avoid

Creating Engaging Business and Target Customer Relevant Instagram Content

Hashtag research
No Hard Sell here
Branding
Tone
Content Guidelines: Ad Sizes, Image Standards and the Text Rule
Photos
Instagram Layout
Sharing multiple pictures in the one post
Videos
Boomerang
Instagram stories (24 hour lifetime)
Promotions / Competitions
Calls to Action
Auto feeds into other social media
Engagement (comments)
Growing sales through Instagram Advertising
Analytics and Insights
Content marketing management
Content marketing matrix
Scheduling
Sample contennt calendars
Sourcing content and using it legally
Repurposing content
Curating content
User generated content
Action man and wonderwoman
Amplification strategies – traditional and digital PR and microinfluencers
Please note that this is not an exhaustive list and it is all covered in brief over a 3.5 hour timeline
Your trainer – Chartered Marketer Christine Watson reserves the right to add to the above learning objectives based on Instagram changes that may occur between now and 8 September and/or light bulb moments between now and then!