Libraries NI presents Blogging Inspiration Session – Thursday 18 October 2018
NI bloggers reveal the secrets of their success at Libraries NI first ever Blogging Inspiration Session.
Brought to you by TrainingMatchmaker.com you will hear from an eclectic mix of local bloggers who have used the art of blogging, vlogging and podcasting for many different reasons and for many different gains.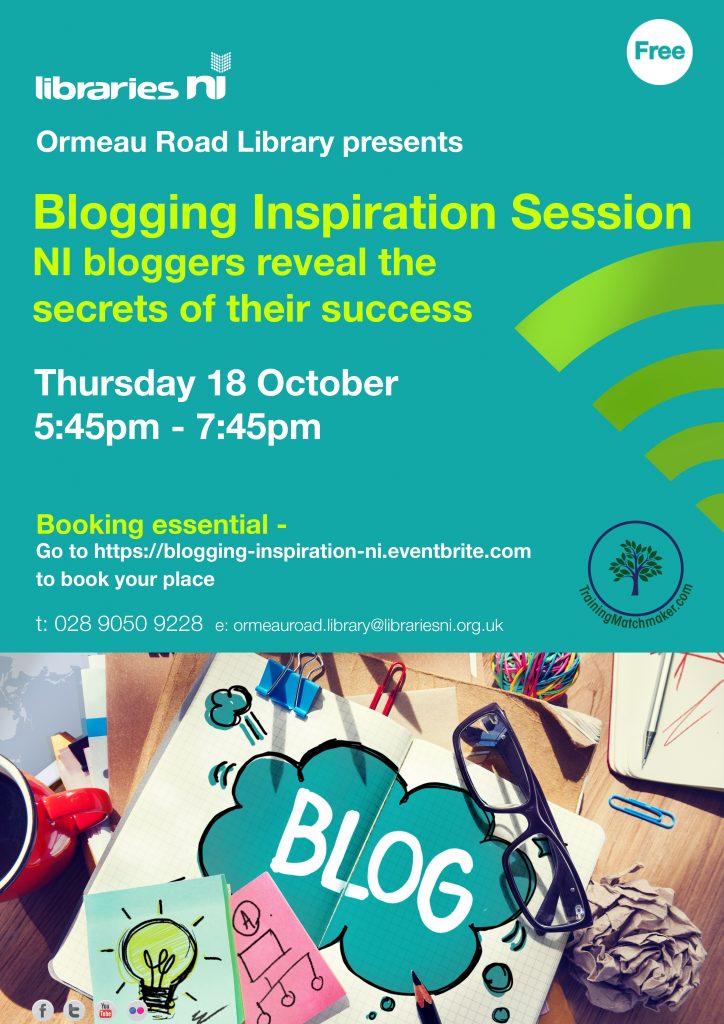 This friendly bunch of bloggers will share with you how though blogging they:
landed their perfect job
found friendships
kept their skills up to date
showcased talent
inspired others with disabilities and challenged misperceptions
put Northern Ireland on the map
got to travel
helped to teach parents
celebrated positive news
Local bloggers confirmed to speak include Ciaran Connolly – Top Local Guide for Google Maps in Ireland, Emer D, A Life to Style, Lee Maguire, Travel Blogger for Dyspraxia Ireland, Emily Hancock – Vlogger at Style me with Love, #NIExplorer, David Gordon Podcaster: TravelBites, Angeline Murphy – Angeline Murphy Design (former contestant on the Great British Sewing Bee) and Michelle Connolly – LearningMole.
The panel will be facilitated by TrainingMatchmaker.com Trainer Tina Calder and the session supported by expertise and advice from HR Trainer – Claire Loftus and Marketing Trainer – Chartered Marketer: Christine Watson.
Blogging Inspiration Session 
Book now: Eventbrite
NI bloggers reveal the secrets of their success
Venue: Ormeau Road Library, Belfast
Date: Thursday October 18
TIMINGS:
Registration and Networking: 5.45pm
Event Start: 6pm sharp
End: 7.45pm
ADMISSION FREE
Founder of Watson & Co. Chartered Marketing – Chartered Marketer and Licensed WorldHost Trainer Christine Watson has been contracted to deliver this event for Libraries NI through new online platform: TrainingMatchmaker.com. Christine has set up TrainingMatchmaker.com to create a community of Trainers and list training opportunities in order to inspire learning. This event will be followed by a free 6 week evening course in Libraries NI Lisburn branch to teach people: How to Get Blogging.