Preventing Customer Service Neglect in the Digital Age
Chartered Marketer and Licensed Customer Service and Digital Marketing Trainer Christine Watson at Watson & Co. Chartered Marketing takes a look at the intensifying pressures facing local businesses as a result of increasing customer demands of brands online and shares some tips on effective digital customer service management.
A quick Google Trends search of the key words 'customer service' along with just one of the many online review channels available to consumers: 'Trip Advisor' / 'TripAdvisor' by Northern Ireland internet users supports the growing importance that should be placed on online customer service management for brands in the digital age.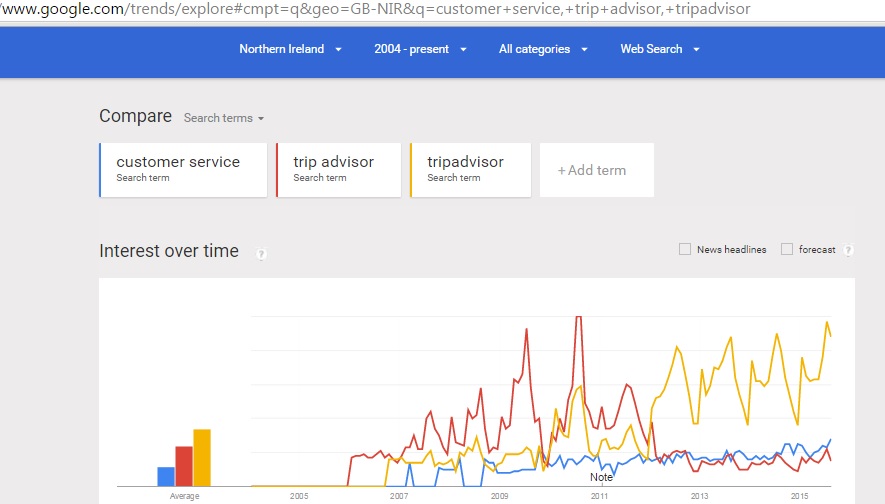 TripAdvisor isn't the only online review platform for consumers to voice their dissatisfaction. In addition to online chat on various digital channels businesses should also be conscious of visible sentiments made about them on Google Reviews, Facebook Reviews, TrustPilot, Yelp, Feefo, Epinions, Glass Door to name but a few.
The 2015 Ofcom Communications report for Northern Ireland found that "Two-thirds (63%) of internet users in Northern Ireland agree that 'technology has changed the way they communicate' and three-fifths (57%) say that these new communication methods have 'made their life easier'." Regretfully the same cannot be said for the businesses facing pressure, often without any extra resource or budget, to ensure that the service experience for the online interactions with their brand 24/7/365 is as positive as the offline experience.
The internet is always switched on and customers now expect customer service to be delivered online almost immediately!
Businesses have clearly not caught up with consumer demands – Social Bakers who analysed more than 66,000 brands across facebook and 17,000 on twitter claim that last year brands were asked nearly 22 million questions on Facebook and Twitter combined yet just 4% of brands are Socially Devoted on Facebook and 3% on Twitter.
Ask any business that has faced negative sentiment online and the business owner, manager, marketer and their team will surely tell you how much more difficult a day at work can become. One notorious example heralds from a hostel in Scotland whose owner's controversial and highly publicised response to a critical customer facebook review included foul mouthed language and insults. Over 2,000 people got involved in the online discussion, enabled via the facebook comments function and journalists and bloggers published the negativity right across the media landscape. There are countless more examples where online content by users has led to damaging consequences for a business – an engineer filmed asleep on a customer's couch appeared in Google search before any brand positivity, multiple law suits re-ignited the talk-ability of the snooze which originated from a very common customer service issue – a long call centre service hold time. In this instance the hold time was as significant for the internal customer – the engineer as it was for the brand's external customers.
Few will argue against the importance of customer service in business yet a great number of our local organisations are failing to invest the necessary resource in auditing and managing what is being said about their brand online. The worrying factor in this trend for organisations is not that prospective customers actively search reviews but rather that online reviews are deemed valuable and more trustworthy than the other communications channels that a business often does invest in such as advertising.
The Competitions and Markets Authority (CMA) estimated in 2015 that "54% of UK adults used online reviews with £23 billion a year of UK consumer spending potentially influenced by online reviews". Therefore effective digital customer service management isn't just a damage limitation game, it can also reap significant rewards for our local businesses.
In any customer service management programme the first place to start is to try and understand your customer. There is an old saying – you cannot really understand someone until you have walked a mile in their shoes and the same applies if you truly wish to deliver positive customer service.
Customer journeys with businesses have become incredibly complex, even a small travel business in the UK has multiple digital channels that influence the consumer before purchase.
Understanding the interactions that a repeat, new or prospective customer has with your business, which can be both online and offline allows you to then delve into an analysis of different customers and evaluate different needs and expectations and then directly compare with your current product or service offering and/or experience.
For example if you become aware that 57% of your website users visit your website via an Apple iphone then it is enlightening to take that experience yourself. In the past year Lego, a business which carries out significant customer journey analysis, overtook Ferrari as the world's most powerful brand.
The same applies to all sorts of different customers, from loyal customers to journalists and even potential recruits. A clear understanding of the customer experience pathway enables every organisation to identify touchpoints that require improvement or investment as well as those that deliver delight, after all isn't customer delight what customer service excellence is all about!
Top Tips
---
Allocate accountability – some argue that customer service is the new marketing. In the digital age these departments cannot sit in silos.
Train your team. World renowned courses such as WorldHost Principles of Customer Service and Sales Powered by Service introduce, or re-introduce the basics to your brand ambassadors – your customer service team now includes everyone working on your digital touchpoints!
The Think with Google tool analyses and demonstrates customer behaviour trends for various industries, in multiple locations for small, medium and large organisations:
https://www.thinkwithgoogle.com/tools/customer-journey-to-online-purchase.html#!/the-uk/travel/small/social
For user mapping inspiration – Google: 'Customer journey maps' or 'UX mapping' and you will find Pinterest boards full of real brand examples from numerous experience designers
Twitter have released a new 'Customer Service Playbook' for brands looking to utilize the micro-blog platform to better service their audience needs. You can download the 126 page book for free from: https://twitter.app.box.com/customer-service-on-twitter
Their 7 Steps to customer service on Twitter can be applied beyond Twitter:
Set Your Strategy
Step 1: Set your vision
Step 2: Size and prioritise your opportunities
Step 3: Define the customer service experience
Define Goals and Measurement
Step 4: Set goals for performance metrics
Step 5: Establish the measurement mechanism
Move to Action
Step 6: Operationalise your strategy
Build Capabilities to Scale
Step 7: Iterate and innovate
Sources:
https://www.google.com/trends/explore#cmpt=q&q=customer+service,+trip+advisor,+tripadvisor&geo=GB
http://stakeholders.ofcom.org.uk/market-data-research/market-data/communications-market-reports/cmr15/northern-ireland/
https://www.gov.uk/government/uploads/system/uploads/attachment_data/file/436238/Online_reviews_and_endorsements.pdf
http://www.telegraph.co.uk/travel/destinations/europe/uk/scotland/11002934/Glasgow-hostels-owner-extraordinary-Facebook-rant.html
http://www.socialbakers.com/blog/2406-coping-with-demand-for-social-customer-care-in-2015