Proactive Steps Northern Ireland Tourism Organisations Can and Should Be Taking To Achieve A Fair Share Of Growth from the Great Britain Market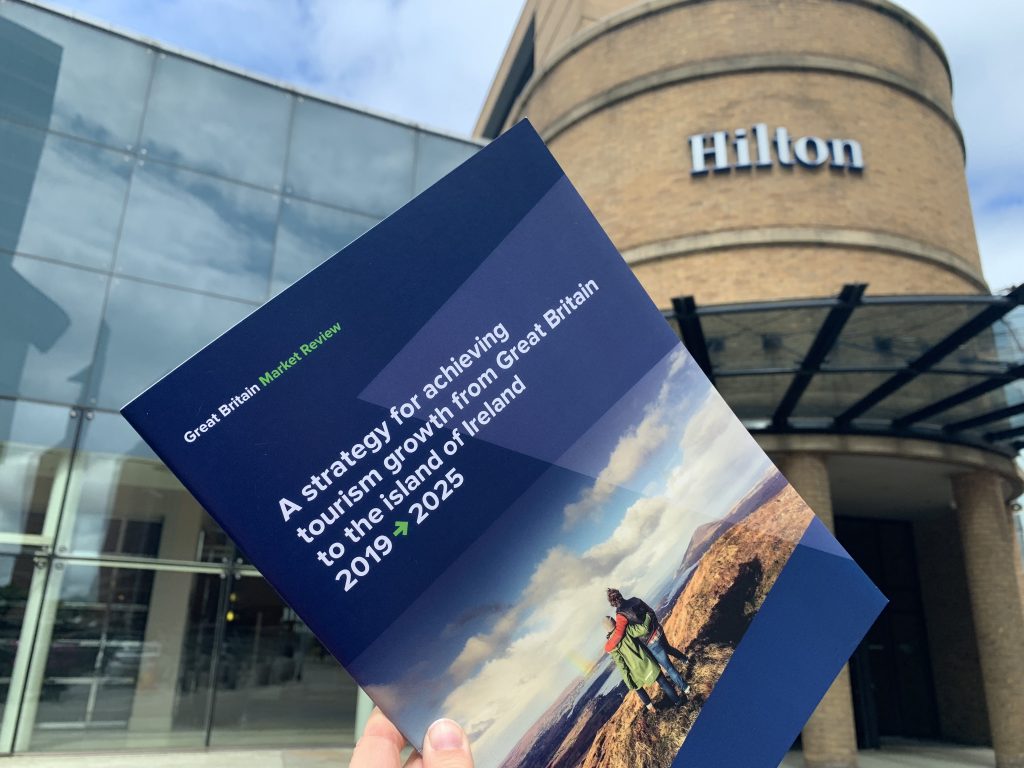 The Northern Ireland Tourism industry is performing well, from an ambitious target to practically double – over the course of a decade – to a £1 billion industry to a brand new stretch target to reach a £2 billion pound contribution to the NI economy.
It was announced this month (June, 2019) by NISRA that we are a stone's throw away having collectively achieved yet another increase in the annual revenue to a £968 million tourism spend in 2018.
Despite this significant growth in tourism numbers and spending reported for Northern Ireland some of our local trade in the tourism and tourism related sectors and indeed some of the regions across Northern Ireland are reaping the benefits more than others. I hear individuals, organisations and public bodies wonder why and honestly, sometimes, the answer really does lie within.
Marketing is a value adding function and it is a true wonder that some organisations and businesses in 2019 still lack an actual marketing function – whether it be part time, full time, a full team complement or outsourced, it certainly isn't as common place as I believe it should be.
On 6 June 2019, I, along with many of my peers, took the time to attend a presentation by Tourism Ireland and Tourism Northern Ireland in the Hilton Hotel, Belfast entitled: 'The Launch of the New Tourism Strategy for the Great Britain Market'. Now I know that not every business can afford the time to attend all events run for their benefit and that's sometimes why I pop along – to see what I can pick up to bring back to my current and old clients, my contacts and embed within my training course deliveries and I do, of course, receive gratitude for this from some quarters. I also like to think that disseminating opportunity focused information will influence positive action for the benefit of all. They do after all say that 'knowledge is power' and I kind of like the place I call home and I, like many others, want Northern Ireland to do well.
So, from our greatest market – Great Britain (England, Scotland and Wales) I know that Northern Ireland has achieved a staggering 86% growth in holidaymaker revenue from 2012 to 2017. I also know that the importance of this market to the island of Ireland is 1.6 million holidaymakers – 31% of all holidaymakers – totalling £468 million in holiday spend, which equates to 18% of all holiday revenue. (Note 2017 statistics reported at the event given the NISRA 2018 results were only released on the morning of the launch of the new GB strategy in Belfast).
However one key statistic presented that should be noted by all is the contribution of this market during what has historically been our traditional off peak season: – the importance of the GB market over the October to March period (when a number of our tourism businesses still close for business – yes, honestly and I know a few personally) rises to 42%.
There is lots more that I can say and analyse, indeed there is a handy booklet to be read, toolkits coming our way, Autumn workshops to be attended and the TED NI programme of support to avail of (Naomi Waite, Director of Marketing at Tourism Northern Ireland name checked it from the stage on more than one occasion) but for now lets turn to what I would recommend our tourism and tourism related businesses do in the here and now, yes that means today, this week, this month, this Summer peak season, to unlock the potential Lifetime value of GB holidaymakers for the benefit of all:
Sign up to the Tourism Ireland Industry Opportunities Portal – https://tourismirelandindustryopportunities.com/home and receive directly into your inbox various opportunities afforded to you by the body who has a remit to sell Ireland, Northern Ireland and you – yes you internationally.
Get Listed – Ensure your product and your various products/services and indeed offers are published and that your listing – your shop window looks enticing on discovernorthernireland.com and Ireland.com. Your local council may also offer a free website listing service. There are plenty more free and paid for listings that you can look at putting in place or improving too from how you look on Google ('Google My Business' is a free service), Trip Advisor, Bookings.com, ViaTour, AirBnB… the list of listings really can go on and on and on.
Provide Content – 'Snippets' was what they were termed today bu Julie Wakley of Tourism Ireland. Quality photo and video content that showcases your product, service, destination or indeed demonstrates a quirky story. Julie called them visual stimulus and noted that GB consumers do book on the back of an image. The importance of content has been a theme at all the tourism marketing events that I have attended over the past few years and I couldn't agree more. We live in a sharing economy and by enabling and encouraging 'shares' not only can you capture attention but you can achieve the holy grail – the objective many have from their digital efforts – that of a sale!
Create or Influence 48 hour itineraries – Julie hinted at a build your own myireland.com trip/itinerary in development at the moment. In the meantime there is nothing stopping from you drawing up a number of 2 day itineraries with your business included and posting these on your website, on your various digital channels such as social media and distributing these to your customer base via email newsletters. Better still do them exceptionally well and share your graphics or 'snippets' with every touchpoint (brand or stop off point) that you have included and ask each individual trade business to do the same. In doing so you can link to each others websites too, all useful for search engine optimisation as well of course the consumer, who is hopefully inspired to book or leave Northern Ireland having had a better time than they otherwise might have experienced without your curation of hidden gems.
Customer Relationship Management – I cannot tell you how wide my smile was when Noami spoke of CRM and the fact that it is much easier and cheaper to sell a product to an existing customer than trying to attract new customers all the time (Ansoff Matrix – anyone, yes I am clearly academic in mindset!). Yes, we have GDPR but before GDPR we had PECR and Data Protection already in place so don't let it deter you from capturing the contact details of your current customers – just make sure you do so in a way that is legally compliant. Free email marketing tools such as Mailchimp (free up to 2,000 subscribers) are used widely in tourism marketing. Capturing a facebook like or instagram follow is good too but given the algorithm reducing the likelihood of your content being seen on what is a 'pay to play' platform would to me justify a more sophisticated approach to communication that falls within the 'Owned' sphere of your Paid, Owned, Earned options.
Bounce Back Marketing – Katy Best, Vice Chair of the GB Review Steering Group and Commercial Director of George Best Belfast City Airport spoke about "ideas germination" and at one point communications on the back of our visitor Boarding Gate cards was mentioned. A great idea for brand positioning a 'What all you can do when you return to Northern Ireland' message but whilst this idea comes to fruition, or not as the case may be, is your tourism or tourism related business using your receipts or invoices to bounce customers back to your business, to another business – complementary during a visitor's stay or to another great destination in Northern Ireland apart from your own – whether you have a business interest in that or not. Visitors to Mourne Seafood restaurant in Belfast for example can of course experience Mourne Seafood in Dundrum on their drive to the Mourne Mountains on their first or subsequent visits to Northern Ireland and whilst there maybe Mourne Seafood owners and staff have favourite places they would encourage them to experience to help enhance the total visitor experience – which extends beyond any one customer touchpoint or moment of truth. (Me, personally I'd encourage them to try a Grahams or a Mauds ice-cream when they get to Newcastle main street). Bounce back marketing is something that I have seen used well and I have personally utilised very successfully throughout my career – an expiry date with a very compelling offer means that it can act in a 'burn a hole in my pocket' kind of way. It works – do it and do it well.
Market Intelligence Gathering – Tourism Ireland's Niall Gibbons spoke about the importance of customer focus and knowing your customer – he advises us all to learn – to get under the skin of our GB customers and to ask them what will bring them back. In order to proactively bring our first time visitors back – back to you, back to Northern Ireland, back to another destination in Northern Ireland outside of Belfast city or indeed back more frequently – 'seek first to understand' (it's a quote I use often in my WorldHost training). From simple conversation to printed surveys to online surveys such as Survey Monkey to contributing to Tourism Ireland and Tourism Northern Ireland strategy reviews – there are lots of ways that you can find out just what the triggers really and truly are for a visit. A question from the floor referred to a lesser visited destination – Mid Ulster – lesser visited in relation to what I would refer to as our anchor footfall drivers – the likes of Titanic Belfast and the Giant's Causeway but that's not to say a visitor enticed by Titanic Belfast could some day soon return specifically to visit the Seamus Heaney centre in Mid Ulster if, for example, their Titanic Guide offers recommendations that match their expressed interests in history and poetry for example. A lack of time in the here and now is a sales obstacle that is easily challenged by posing future visits. Indeed, after the Tourism Ireland new GB strategy launch I bumped into a lovely GB couple at my chosen pitstop nearby: Fed & Watered – Tina and Paul had an afternoon left after travelling by ferry, staying at a very compelling value offer in Benedicts that included food as well as accommodation and completing the Lagan Boat Tour. They didn't spot the Titanic Quarter visitor leaflets on the window ledges – instead they sought recommendation from the service professional clearing the tables. A point well made at the Tourism Ireland event by a representative from the Fitzwilliam hotel (if I recall directly) – product knowledge and civic pride across those at the coal face of the tourism industry are undeniably an important aspect of successful tourism marketing. Where would you have sent them before their ferry home, knowing they had to pick up their luggage at the hotel? Really interestingly Paul worked for NBC and will return for the golf – so the various attractions that I shared, within close proximity to Titanic Quarter and Fed and Watered, I trust will be visited – including the lesser known NI War Memorial in Cathedral Quarter, alongside the HMS Caroline – a favourite of mine, given I ran a leadership event on it a long long time ago, long before it was renovated to become the place it is today.
Discover and Engage with Relevant Clusters – 'Hubs' was noted as part of the Tourism Ireland strategy, whilst the speakers claimed they are not yet set in stone the current clusters existing across Northern Ireland were given a nod. The main lady in Tourism Northern Ireland that leads on this front is within the Who's Who on their website – Rosemarie McHugh, Director of Product Development. Your local council is also likely to be involved so don't be shy about touching base with the Tourism Officer in the council you pay your business rates to. That key contact can unlock huge potential for you and unravel the myriad of opportunities and support that is in place now and planned for the future specifically to help you grow your sales and get yourself into a position where you would comfortably employ more staff.
Get to Know Who's Who – look back at practical tip number 1 – you have representatives all around the globe. Find out who they are and let them know who you are and what you can bring to the table to help them sell Ireland and Northern Ireland and help them sell your products and services abroad . Don't just have a look at the Who's Who in Tourism Ireland and Tourism Northern Ireland – really connect with them, give them what they need to help sell you and the destination and build a win win relationship. https://www.tourismireland.com/Whos-Who and https://tourismni.com/about-us/whos-who/. You also get to meet key individuals face to face at various Tourism Ireland and Tourism Northern Ireland industry events. The most powerful contacts will always be those that you have met face to face.
Evergreen reviews – with peak Summer season upon us, ask yourself what you are doing to encourage happy customers to leave positive online reviews for your business. Window stickers, table top signage, TripAdvisor branded business cards, calls to action on receipts, post visit email marketing and a verbal ask are just a few of the ways that you can generate some user generated magic that can benefit you in the long run. One very quick tip from the Online Reviews seminar that I delivered for CIM Ireland in Belfast – when replying to a positive review name your brand and key words such as restaurant Belfast for example but when replying to a negative review try and avoid using terms that would appear to prospective visitors/customers when they do a google search. Also know that there are rules and you can request some reviews to be taken down – such was the case with one of my client's – ask, seek, knock – know what can and can't be said and take action where necessary. If you believe that online reviews are trusted more than push advertising then take proactive steps to leverage your current customers to build the kind of positive brand reputation online that encourages conversion from new customers that are at the consideration stage of their journey to purchase.
Upsell and Cross Sell – Would you like to Go Large for an extra 50p? How would such a sales tactic so often embedded by global brands find it's way into your product and service offering? The act of putting more money in your till can actually enhance the total customer experience. Let's not forget that the target of £2 billion annual contribution to our economy from tourism can come from increased spend per visitor as well as more visitors.
Staff Knowledge and Passion – see point 7 above. The WorldHost NI Ambassador and Food Ambassador programmes endorsed by Tourism Northern Ireland, that I am licensed to deliver, are all about civic pride. Tourism Ireland and Tourism Northern Ireland run such a large number of FAM (familiarisation) trips for press and other influencers throughout the year. Firstly – are you featured on any of these FAM trips? If not, why not, should you be, could you be? Secondly – how would your individual staff members perform if a visitor asked them where they should invest their precious time and money in Northern Ireland? There are so many resources available, your team can pop into the Visitor Information Centre, your place can hold useful printed materials, you can learn who and where to signpost visitors to but better still your staff can know, from personal experience, where the very best places to visit are in your vicinity and beyond – not to match their needs or interests but to match the needs and the interests of each visitor that has the pleasure of an interaction with them.
Tourism Ireland community Q&A – Ireland.com was purchased for a pretty penny and a wise move it was too. Did you know though that a platform exists which could be doing with your help, you can pop in and answer queries, yes, of course this means that you are an unpaid visitor information centre attendant but if your product/service is a solution then why wouldn't you want to pose it to a visitor coming to Ireland and/or Northern Ireland? The Ireland.com community promise: "Ask a question. "Want to know more? Ask a question in our Community, they're the people who know Ireland best." – Take a look at this tourist question and the answers to get a flavour of just what this platform can have you bring to a visitor pre-visit: https://community.ireland.com/1552/Are-there-any-castles-that-you-can-explore-outside-of-a-guided-tour?Keywords=coaches&Keywords=coaches&#bm1555
For more information on the new GB strategy check out the booklet that was handed out on the day here and the email that was sent to delegates post event is copy and pasted below for your convenience:
"New strategy unveiled to grow tourism from Great Britain
Great Britain offers considerable potential for tourism to the island of Ireland, according to a new strategy launched last week. The strategy has been developed by Tourism Ireland, Fáilte Ireland and Tourism NI, in close collaboration with a wide range of industry partners, at home and in Britain.
It sets out an ambitious target to grow revenue from British holidaymakers by +25% by 2022 – while ensuring continued regional growth and season extension.
Click here to read the new Great Britain strategy.
Click here to download the presentations from the launch events.
Click here and here to read our press releases.
Watch our launch events video here."
This LinkedIn article has been scribed by Chartered Marketer and Licensed WorldHost Trainer Christine Watson of Watson & Co. Chartered Marketing and TrainingMatchmaker.com. It takes a little time to attend these events and create this content so if you valued the practical tips provided we would of course appreciate a positive review on LinkedIn, on facebook or on the Google Review platform. If you have any ideas, suggestions or amends to enhance this content please do feel free to get in touch with us directly via linkedin, facebook, twitter, instagram, email, telephone or in person. https://www.watsonsmarketing.com/contact-us/
LinkedIn article scribed between 6 and 17 June 2019 – apologies, we openly admit that we kept getting distracted away from it and certainly there is an awful lot more that we can say but 'continual improvement is better than delayed perfection' isn't it?! Date of Posting: 17 June 2019.