Watson and Co Chartered Marketing deliver a Sell Out Instagram for Business Workshop at Inspire Business Centre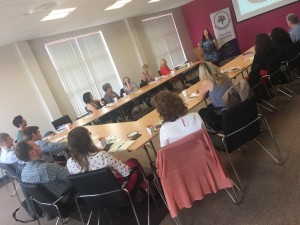 Watson and Co Chartered Marketing founder and Chartered Marketer Christine Watson delivered a sell out Instagram for business workshop at Inspire Business Centre on 23 August 2017
Delegates in the room included business to consumer and business to business brands such as Streamvale Open Farm, Keys to Success NI, Cartmill Stewart and Co Chartered Accountants and Florrie and Will clothing store in Dromore.
During the session delegates picked up handy hints and tips with practical learning by doing including:
a quick audit of how your brand currently looks on the Instagram platform, with one delegate discovering realising over 2,500 customers had uploaded user generated content of your brand and attributed this to their business by creating and using their own hashtags (plural).
an easy conversion from personal page to business in order to access the calls to actions and analytics.
an on the spot trial of Instagram app Boomerang
Chartered Marketer Christine Watson – The Trainer for the Crash Course in Sales Focused Instagram for Business said "Instagram  can be a very powerful marketing tool for brands if used correctly and our workshop at Inspire Business Centre inspired local businesses to deply the platform for business gain".
Over the course of three hours the Instagram for Business sessions covered:
Instagram Users
Best Practice in Instagram for Business from over 15 million business accounts on Instagram
Competitor Insights – Practical Activity
How to Use Instagram to Grow Sales – Practical Real Life Examples
Setting your Strategy, Objectives and Metrics
Your Target Audience
Step by Step Guide to setting up your Instagram Business/Brand Page

Top Tips (integration with website/other marketing – business cards, banner stands etc)
Branding
Description Copy and Calls to  Action
Common Mistakes to Avoid

Creating Engaging Business and Target Customer Relevant Instagram Content

Hashtag research
No Hard Sell here
Branding
Tone
Content Guidelines: Ad Sizes, Image Standards and the Text Rule
Photos
Instagram Layout
Sharing multiple pictures in the one post
Videos
Boomerang
Instagram stories (24 hour lifetime)
Promotions / Competitions
Calls to Action
Auto feeds into other social media
Engagement (comments)
Growing sales through Instagram Advertising
Analytics and Insights
Content marketing management
Content marketing matrix
Scheduling
Sample content calendars
Sourcing content and using it legally
Repurposing content
Curating content
User generated content
Action man and wonderwoman
Amplification strategies – traditional and digital PR and microinfluencers
Chartered Marketer Christine Watson added to the above learning objectives based on Instagram changes that occured between devising the course cnotent and delivery. New additions included the brand new Instagram Live – Guest function.