The 10 Commandments of Content Creation – Making Influencer Marketing and Blogger Outreach Law Abiding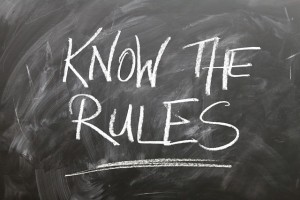 As a Chartered Marketer for over a decade and a former Chair of The Chartered Institute of Marketing Ireland Board I have no choice but to abide by the rules and regulations associated with marketing in practice and I've made an official commitment to keep my skills up date with what truly is an ever changing landscape.
Ignorance is no excuse. There are laws of every land and all marketers and businesses employing content creators (- be they creative agencies, freelancers, celebrity influencers, designers, bloggers, videographers, photograpers or otherwise), are legally bound to comply with a vast array of legislation, which in itself can differ on a country by country and industry by industry basis.
Recently there has been a lot of negative media coverage associated with influencer marketing, much aimed at bloggers in particular. Whilst not all bloggers and influencers are abiding by the written and unspoken rules, marketers must be careful not to throw the baby out with the bath water. Influencer marketing does work, it has for decades, long before the days of social media and website platforms such as wordpress which have enabled everyone and anyone to become their own media outlet.
As an advocate and beneficiary of sound influencer marketing I will not participate in scare mongering nor will I tolerate bullying or harassment of any kind.
Content creators should be respected, time is not a free commodity and good quality content – blogs, social media posts, vlogs & more, once created and distributed, can deliver evergreen benefit (or indeed damage) to a number of people – the business, brand or organisation, the content creator, the subject and/or the audience – intended or not.
So, we have chosen to spend our time wisely, for the benefit of our industry, our clients and our blogging friends and have created this very blog to make all aware of various rules and regulations that should be abided by.
Gov.uk provide a useful reference for marketers and bloggers and assert that
"All marketing and advertising must be:
Advertising Rules:

ASA – The CAP Affiliate Marketing Guidance by ASA: "The content should make it obvious that it's advertising as well as sticking to the general rules that require ads to be truthful, responsible and avoid causing harm or offence"…"The Advertising Standards Authority has ruled that both the business and affiliate marketer are responsible for meeting advertising rules".
2. The Consumer Protection from Unfair Trading Regulations means you cannot mislead or harass consumers by
including false or deceptive messages
leaving out important information
using aggressive sales techniques
3. The Business Protection from Misleading Marketing Regulations – as well as being accurate and honest, you must not make misleading comparisons with competitors
4. Pricing – you must describe the actual cost accurately, including any ongoing or  associated costs (like subscriptions fees) and taxes (such as VAT)
5. Data – ICO
6. Website
7. Contract Law
8. Intellectual Property including Copyright – Trusted Source: IPO Intellectual Property Office
Trademarks and Passing-off for example passing off case law
9. Defamation of Character
10. Platform by Platform Rules, Regulations and Compliance Tools
Facebook Promotions/Competitions:
Marketers or bloggers who breach the facebook rules are risking
penalties
being applied by facebook to their content/pages as of December 2018.
10. Sectoral Rules and Regulations: There are also specific requirements that apply to certain sectors such as:
Food
Alcohol
Beauty products
Environmentally friendly products
Medicines
Tobacco
As a Chartered Marketer with The Chartered Institute of Marketing we have a free legal helpline at our disposal. However, the legal landscape is complex and we will of course never claim to cover all bases or accept any liability. This is an educational resource intended to assist bloggers, marketers and businesses to learn more and do more on the right side of the law.
If you have read this far we would love to hear from you. You can tweet us, facebook us, post on LinkedIn, Instagram, email us, lift the telephone to us or simply let us know eyeball to eyeball the next time you see us out and about if you found this blog useful to you and/or any amends you would suggest we make.
*Blog created by Chartered Marketer Christine Watson in draft format on 5 February 2018, edited 4 April 2018. Added to 25 April 2018.