Tuesday Tip Go Measure
"Go Measure", "Go Figure", "Go Suss That Out" – if you have never asked this of your organisational inputs and outputs – then maybe, just maybe, you remain in business by sheer fluke or are grossly failing to perform to the optimal level that you can.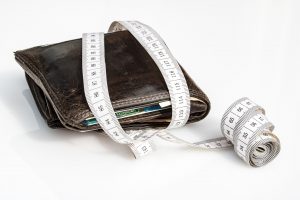 I was once told that: "You Can't Manage What You Don't Measure". Another quote attributed to Druker, (a Management thinker I came across when studying a Management Degree at Queen's University, Belfast), simply informs us that: "What Gets Measured Gets Done". With this in mind I've crafted a blog to signpost readers of watsonsmarketing.com to marketing and customer service metrics resources that could be handy when compiling a list, or a scorecard, of the measurements that should matter for your organisation.
Marketing Metrics
Professor Mark Riston called "digital metrics" "bullshit" and compared the situation with "measuring one's penis" in a shocking non-PC June 2017 article he wrote for Marketing Week, based on a debate he participated in at a conference.
Yes, you can of course build yourself an overcomplicated world and no-one but no-one enjoys overwhelm, but, it is always useful to have an awareness of the useful measures that you can track in order to identify cause and effect of your various marketing efforts or indeed external factors, potentially beyond your control.
For commercially minded organisations that clearly has to include "profitable sales", for public sector health organisations it could be, for example, the cost saving that comes from a drop in prescriptions for antibiotics.
Marketers who don't agree that marketing is there as the business function that adds value are wrong. Marketing is not the colouring in department, shouldn't be portrayed or seen as such and is wholly deserving of a seat at the board room table.
Marketing Metrics Resources:
1. Brand, Content and Commercial Measures using the RACE acronym: Reach – Act – Convert – Engage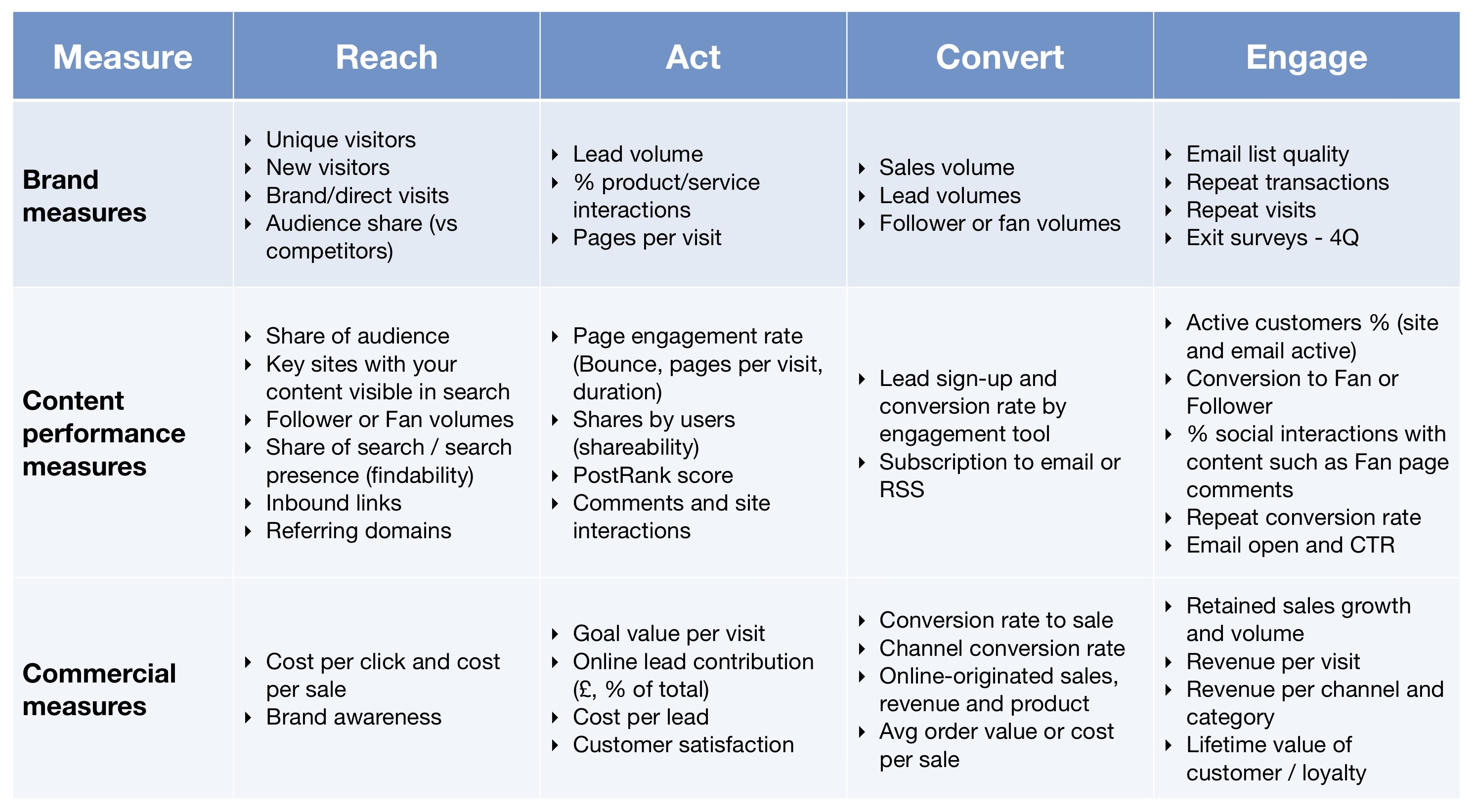 Source: https://www.smartinsights.com/content-management/content-marketing-strategy/measuring-content-marketing-kpis/
2. Key Measures under the RACE acronym: Reach – Act – Convert – Engage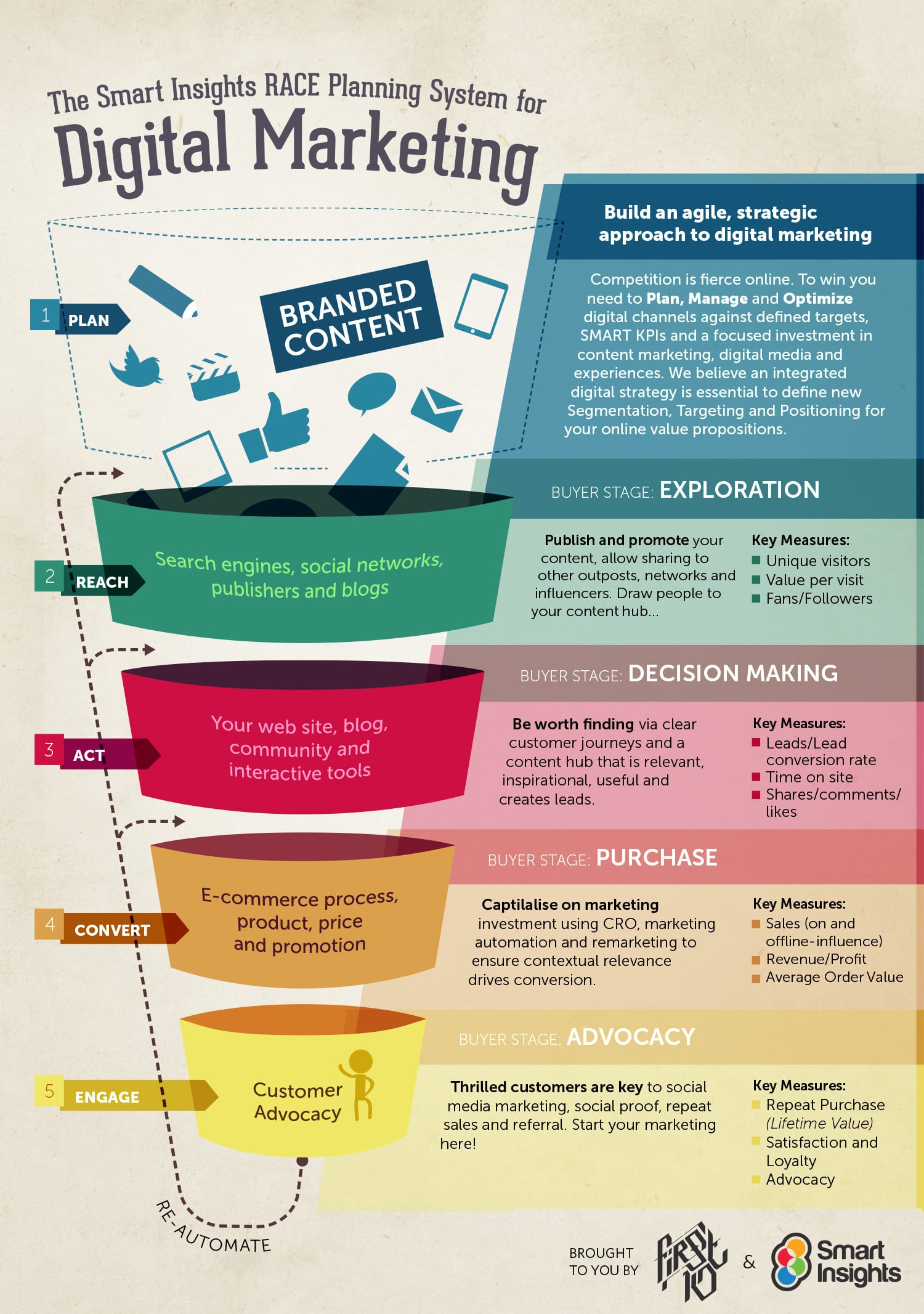 Source: https://www.smartinsights.com/digital-marketing-strategy/race-a-practical-framework-to-improve-your-digital-marketing/
3. The Steering Wheel by Tesco – an example of a Visual Balanced Scorecard
Source: https://issuu.com/cimaglobal/docs/r267_manage_risks/5 (The Tesco Steering Wheel is one of my favourite examples of balanced scorecard use, a visual that enables key metrics to be communicated to the individual employee and store level and one which is used alongside the traffic light method of red, amber and green to focus thought and action on resolving unmet targets).
4. The 5 S Model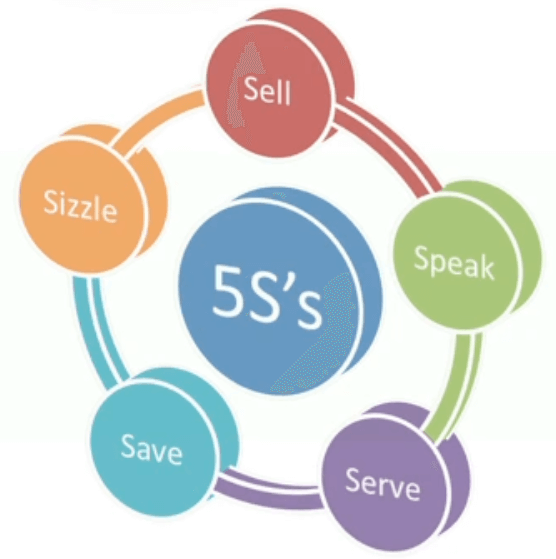 Source: https://www.smartinsights.com/goal-setting-evaluation/goals-kpis/goals-for-your-digital-marketing/
5. What Google Will Tell You To Measure: A B C
Acquisition
Behaviour
Conversion
6. What Facebook Will Tell You To Measure – well they couldn't be the same as Google, Could they?
Awareness
Consideration
Conversion
Simply click: "create a new campaign" in your facebook now and you will get insight into the measures that facebook tells you that they can impact on.
More Reading:
7. Critical Digital Marketing Metrics
5 Critical Digital Marketing Metrics every business should have
Source: https://www.smartinsights.com/goal-setting-evaluation/performance-management/5-critical-business-metrics/
When it comes to it though, the most important marketing measures are really up to you and should align with your "Why". For the Get Blogging NI 6 week course I suggested some non traditional metrics to my audience of bloggers and aspiring bloggers in the library training room. These included:
Blog Metrics
Viewers / Readers 
Impressions
Followers (Total)
Email Database
Collaborations
Event Invites
Freebies £Value
£Revenue
£Profit
Content Plan
Quality Score
Bounce Rate
Time on Site
PR (Advertising Equivalency)
Friendships
Writing Skill
Employability… 
And I finished off by reminding them that at the end of the day: as a blogger it truly is, and always should be, totally up to them!
As far as organisational measures go, the freedom of the marketer is less so and the metrics that matter really should flow from the founder, owner, board, management team. Marketing is a specialism and number crunching means little if the numbers crunched are not turned into insights and actions. The most useful thing I ever reported on as a marketing practitioner was the marketing "cause and effect" of the various spikes in an annualised sales graph broken down week by week. Really and truly the board do not need to know the nitty, gritty of the plethora of metrics that we can measure in todays digital world, and anyway digital measurement reporting can be accused of overlooking the impact of outside influences such as non traditional advertising and word of mouth. The marketing world that we currently live in should be representative of integrated marketing, the metrics should reflect that and ultimately, for nearly every commercial entity out there, the true marketing metric that matters should link back to the very definition of marketing "identifying, anticipating and satisfying customer requirements profitably"
Customer Service Metrics
My all time favourite benchmark for customer service metrics and when referring to user journey mapping is the Lego Experience Wheel. It refers to pre visit, during visit and post visit moments of truth and encourages service professionals to identify make or break moments and to rate their organisation's performance using a simple happy face, sad face or indifferent face. A handy visual and easy to use tool that can highlight a plethora of areas for improvement.
Source: https://experiencematters.blog/2009/03/03/legos-building-block-for-good-experiences/
2. The Evolution Of Customer Service Metrics
Source: https://www.forbes.com/sites/bradbirnbaum/2018/05/08/the-evolution-of-customer-service-metrics/#10120304664d
3. The Metrics You Need to Conduct a Health Check for Customer Happiness
https://www.shopify.co.uk/blog/customer-service-metrics
4. Measure your customer service performance
https://www.nibusinessinfo.co.uk/content/measure-your-customer-service-performance
This 11 December 2018 Watson & Co. Chartered Marketing Tuesday Tip – "Go Measure" is a  "listicle" blog of "curated content" by Chartered Marketer and Licensed WorldHost Trainer Christine Watson has been inspired by her Winter 2018 training delivery for Libraries NI on the TrainingMatchmaker.com Get Blogging 6 week evening course in Lisburn City Library.
We do, of course, reserve the right to return to this evergreen blog of useful resources for marketers seeking to build their measurement and performance scorecards to add more useful signposts as we come across them.
It takes time and effort to create and distribute blog content, so if you found the "Go Measure" blog useful we'd love it if you would leave us a positive review on Google Reviews – to do this simply Google: "Watson Co Chartered Marketing" and you will find our Google My Business listing. If you don't yet have your own free Google My Business listing check out one of our first ever Tuesday Tip Blog posts: Go Google Your Business.
If you have any ideas for improvement or suggestions for additional content – please tell us directly.