Tuesday Tip – Go Set Up Facebook Pages To Watch

If you are using Facebook as one of the many tools to help you market your business, you can use the 'Pages to Watch' feature – a function of 'Insights' on your business page.
Facebook Insights is a useful tool to help you understand how well your page is doing in terms of audience reach, engagement, actions, views, followers and likes. By using 'Pages to Watch', you can understand how competing pages are doing in terms of their likes, posts and engagement. This gives you the knowledge and ability to benchmark your Facebook with a view to taking active steps to improve your content and how you deliver it, to enhance your business performance on the Facebook platform.
How To Use It
Before you start: you need to make sure you have over 100 likes on your page in order to use the Pages to Watch feature.
Once you're logged into your business account, go into your insights section on the left-hand side.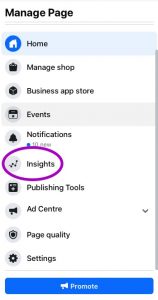 Once this is done, scroll down until you reach 'Pages to Watch'.
Simply click 'Add Pages' to see the performance of your competitors and other benchmarks.
Facebook will reveal to you  the total page likes of each page that you choose to watch and highlight their percentage increase or decrease in likes compared to the previous week, how many posts they created within the week and their level of engagement with their facebook audience. Ideal insights to help you define goals for your own facebook metrics.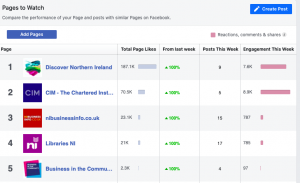 You can also delve deeper into why some of the pages you watch are reporting great metrics – simply look for the top posts of the week and then clicking on their page name. You can then scroll down through the posts on their facebook page to get an understanding of the engagement and try and determine why – did they post content that was entertaining, educational, inspirational or convincing, did they post a competition or run a campaign. By analysing the reactions – the likes, loves, sad, angry, laughing and shock emotions as well as the comments and shares you can choose to make changes or improvements with your own facebook content moving forward.
It's like a mini Facebook Timeline for one specific page: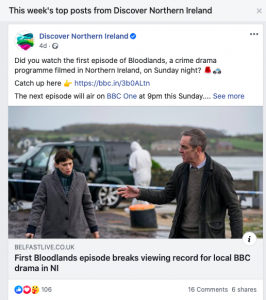 The top post from Discover NI pictured above is an example of what it looks like, in the same way as the pages are put in order, the posts are also ordered as most engagement to least engagement. This helps you see what works best for the audience of the page you watch (which could potentially be your audience too!)
It also gives you an insight into how many times each competitor of yours posts each week – this can clearly help you set realistic targets and indeed expectations when you are reporting on your Facebook activity.
Why Use It?
This is an insightful (and discreet) way of keeping an eye on your competition. You can take insight into how they gain audience reach, and thus take corresponding actions with your Facebook page in order to gain more followers and customers or clients.
If you see a competitor page perform well, delve deeper to understand why and learn from what has seemingly worked for them. Ask yourself:
Was there an important date or holiday also relevant to your business area or audience that they posted about, and you didn't?
Do they keep the same theme or trend? Does that work for them?
How frequently do they post, including analysing what time of day they post?
Who were their top performing posts shared by and where?
Not only can you benchmark but it will help you to generate ideas to put your own spin on. The analytics of Pages to Watch is great for market research, because you can also potentially see what didn't work and how you can avoid making similar mistakes.
As well as competitors, it's good to also look at what companies inspire you and those who have a great engagement with their followers. You can take notes on the words they use and the writing style of their posts, how they respond to comments, their calls to action (if any at all) and the types of images and/or videos or other visual content they use.
With searches of local business markedly increasing, especially during the pandemic with a 23% increase, between February and May last year reported by Hootsuite, it is useful to learn how you can optimise your facebook to attract such growing searches to your business.
By using the Pages to Watch feature, you can stimulate positive changes in your strategy and tactics when it comes to using Facebook within your marketing plan.
Go learn
To find out more on using Facebook Insights, Pages to Watch and other Facebook features for your business, you can check out Training Matchmaker and Make It Click for signposts to free online resources. Useful learning signposts include:
The founder of Watson & Co. Chartered Marketing – Christine Watson is a learning facilitator on the Google.org funded Make It Click programme by charity Good Things Foundation. Aspiring learners can sign up to Make It Click for free, using the TrainingMatchmaker.com learning centre no: 8003411.
We have a vast array of other learning resources, guides, ultimate guides, step by step guides and so on and we may just return to this blog to signpost further. Indeed we do just that on our practical 3 hour Facebook for Business training workshop designed and delivered by Chartered Marketer Christine Watson, founder of Watson & Co. Chartered Marketing and TrainingMatchmaker.com. If you'd like to chat to us about booking us for a Facebook for business workshop or to create and deliver a bespoke training and mentoring programme with your team we'd be delighted to hear from you – get in touch
Blog created by marketing trainee: Maya McCloskey. Maya was first introduced to the Facebook 'Pages to Watch' function by training supervisor Chartered Marketer Christine Watson, founder of Watson & Co. Chartered Marketing on week 2 of a 6 week traineeship February/March 2021. This newfound knowledge was used to research the useful ways for facebook business page users to utilise the 'Pages to Watch' feature and to help educate our audience in some of the lesser known tactics in social media marketing.
Creation Date: 9 March 2021
As always anticipate updates and changes – facebook constantly changes and google spiders do indeed like us to update our blogs – it reassures the search engine that the content they present to 'searchers' is relevant and up to date.