Tuesday Tip: Go Sell
Our Tuesday Tip comes from our Sales Focused Instagram for Business workshop which we delivered for Mallusk Enterprise Park on 11 September 2018.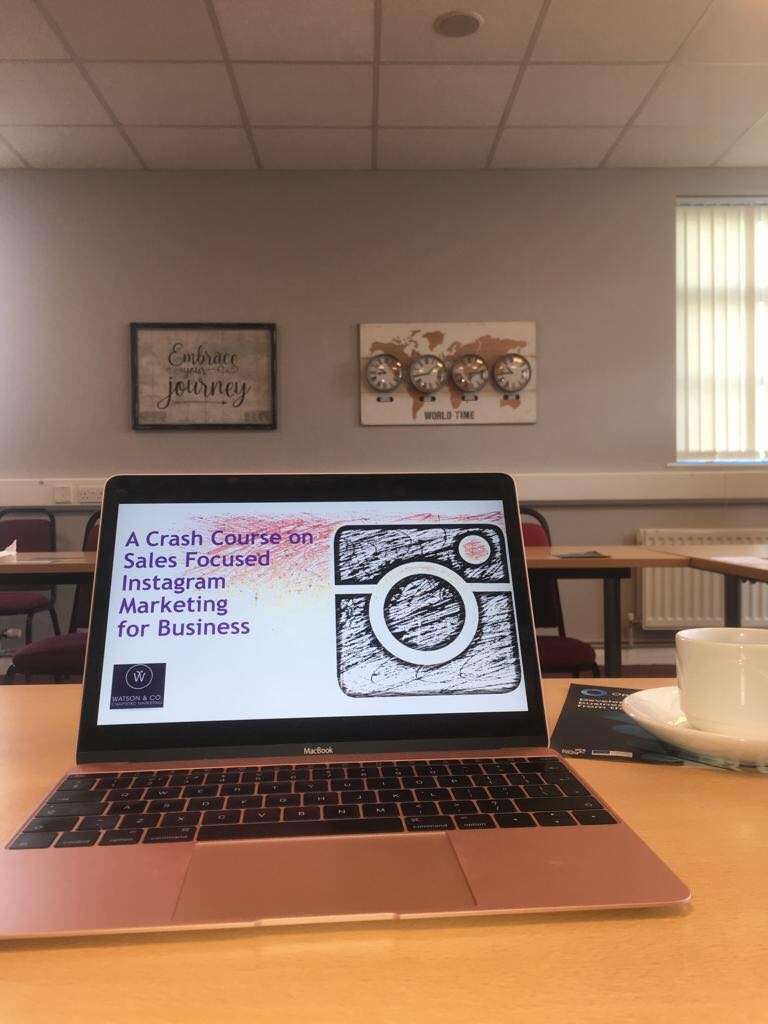 We didn't quite capture the full complement of delegates in one picture or get a Boomerang this session but we did share lots and lots of tips and all training delegates left with a rather large 'To Do list' to move their Instagram for Business Pages forward.
Our biggest tip was to encourage delegates to use Instagram's in-platform sales tools. Yes, we know it and we say it to: social media isn't there for hard selling but you can deploy visual storytelling to grow your sales.
First and foremost we advised delegates to activate their call to action buttons. At Watson & Co. Chartered Marketing we have "Get Tickets" which sits alongside our contact us buttons just below our bio.
How To: Simply go into edit profile and choose your Action button of choice – ours links to our company page on Eventbrite.
You can add the following call-to-action buttons to your business profile on Instagram:
Buy/Get Tickets: Buy movie tickets or event tickets.

Start Order: Order food through select restaurants.

Book: Book an appointment.

Reserve: Make a reservations at a restaurant.
Read more about call to action buttons on your Instagram for Business page on Instagram Help.
Not to be confused with your contact buttons – you can have Get Directions, Call and Email automatically appearing once you link your instagram for business page to your Facebook business page. Find out how on Instagram Help.
We'd also love to see delegates who sell products online like books for example activate their Instagram shopping tags on their tiles – check out @betseyjohnson on instagram to see what we are talking about. Do you see the shopping bag in the top right hand side of each of her instagram tiles, when you click into one of these tiles the shopping bag appears in the bottom left.
We also suggested some product innovations – a new product range by our local print houses – inspired by @forbes Instagram Live Editor-in-Chief's T-shirt which allows him to model their key message in Mirror Image, thereby appearing to viewers correctly.
As always our Tuesday Tip reminds us of our very own To Do List. We at Watson & Co. Chartered Marketing need to take our own #JustDoIt pill and order our branded Tee in mirror image – check out for it on our next instagram live.
Have you attended one of our Instagram for Business training workshops? If so, do feel free to share what top tips you took away from our Instagram Trainer – Chartered Marketer Christine Watson. Better still if you've implemented anything we'd love for you to let us know – applied learning is the best learning after all.