The Belfast WorldHost clients of Watson & Co. Chartered Marketing with Private Dining Rooms for your event
Having trained over 1,000 service professionals in the WorldHost Customer Service and WorldHost NI Ambassador – Welcoming Visitors to their Destination programmes across Northern Ireland we are very privileged to be able to boast about the many hotels and restaurants on our client list.
Following a social media conversation on Twitter during an online networking conversation for #Magherafelthour (every Tuesday 9pm to 10pm) we promised a blog to highlight some great event venues for a Belfast meet up… and we keep our promises.
Five Watson & Co. Chartered Marketing WorldHost Restaurants with Private Dining Rooms in Belfast
Our top five list of WorldHost Restaurants with private dining rooms in Belfast:
James Street South
Hadskis
Crescent Townhouse
The Book Reserve in The Thinking Cup Café
Maryville Tea Rooms
1. James Street South
Location: 21 James Street South Belfast BT2 7GA
We have delivered numerous WorldHost training courses in the private dining room of James Street South. You will find the private dining room on the second floor and access is through a door nestled between the James Street South and Belfast Bar and Grill restaurants.
For our WorldHost training set up – delivered to a maximum of 20 delegates the room looked like: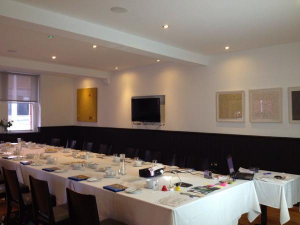 The WorldHost service was excellent and the quality of the food top notch for our training delegates.
For more information visit: www.jamesstreetsouth.co.uk/private-dining/
To enquire / for bookings contact: Marie-Claire King  on 028 9560 0701 or email mcking@jamesstreetsouth.co.uk
2. Hadskis
Location: 33 Donegall Street /  Commercial Court  Belfast BT1 2NB
You will find Hadskis within the Cathedral Quarter area of Belfast city centre. Upstairs there is an intimate overflow dining area perfect for small private dining – this includes really comfy suede sofa style seating. We have delivered a small training course in this room and made the most of the £6.50 lunch menu!
It is also worth noting the value for money that Wine Mondays affords Belfast diners – for just £30 you get to taste a delicious 3 course meal with paired wines. Wine Mondays start from 5pm and our WorldHost Customer Service and NI Ambassador Graduate Michael is usually on hand to offer lively discussion on the wine picks.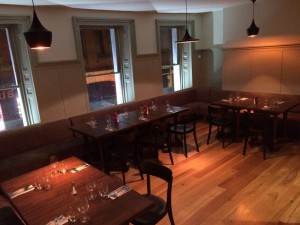 For more information visit: www.hadskis.co.uk
To enquire / for booking contact: WorldHost Graduate Michael Tel: 02890 325 444
info@hadskis.co.uk
3. Crescent Townhouse
Location: 13 Lower Crescent, Belfast BT7 1NR
Under new ownership since we delivered our WorldHost training programme to the Crescent Townhouse team in the private dining room upstairs, this venue oozes charm with it's grand library walk through, which, in itself, made a great break out room for our trainees.
For more information visit: http://crescenttownhouse.com/conference-facilities/
For enquiries / to book: Phone: 028 9032 3349
Email: info@crescenttownhouse.com
4. The Book Reserve in The Thinking Cup Café
Location: 407 Lisburn Rd, Belfast BT9 7HN
The Book Reserve upstairs in The Thinking Cup Café has a glass partitioned seminar/conference room available for event bookings. One bonus is their large tv which can save the presenter the hassle of a data projector and white screen set up.
We can also heartily recommend the Chicken Caesar salad pictured below:
For more information visit: http://www.thebookreserve.org/
To enquire / for bookings:
Office Tel. 028-90665941
Cafe   Tel. 028-90667441
 Email: info@thebookreserve.org
5. Maryville Tea Rooms
Location: 2 Maryville Park Belfast Co. Antrim BT9 6LN
Quintessentially fancy, Maryville Tea Rooms on the Lisburn road is a true hidden gem. Classy and with a little car park (great perk given the location) the private dining rooms upstairs are plush and make a great first impression. Tea and coffee is served in dainty china cups and saucers and the crumbly delectable homemade scones pictured below are worthy of a particular mention.
We've also enjoyed many a private business meeting in the little cubby hole room located just off the main tea room. An ideal space for a meeting of up to 4 persons.
For more information visit: www.maryvillehouse.co.uk/conference-rooms
To enquire / for bookings:
Speak to our WorldHost Graduate – Business Owner: Karin
call (+44) 028 9068 1510 or email: info@maryvillhouse.co.uk
Dozens more of our WorldHost clients have great venues in Belfast and beyond and we aim to add to this list in the coming months
To find out more about our WorldHost training programmes visit www.watsonsmarketing.com/services/worldhost/