WorldHost Customers with Disabilities – 3 December, Belfast

The WorldHost Customers with Disabilities programme aims to increase awareness and sensitivity towards customers with disabilities. By having this knowledge, service providers can make people with disabilities feel more comfortable and welcome. Our disabled visitors represent a growing market and they are loyal when they find businesses that take the time to meet their needs.
Course Format
---
This is a half day participative introductory workshop. Participants will also be given the opportunity to achieve a level 2 Award by successfully completing a multiple choice assessment at the end of the workshop.
Course Content
---
Purpose of the programme.
Language of disabilities – Tips for Improving Communication with disabled customers.
Things to consider – Preconceptions and misconceptions – debunking the myths.
Common disabilities that customers may have and appropriate ways to offer assistance.
Important tips for service providers.
The value of tourism and why disabled customers are such an important market.
Identifying local tourism businesses that are accessible to disabled customers.
Cost: £60 per person
*Optional extra: ICQ Level 2 Award in Understanding customer service in the retail sector, £35 per person
---
To Book:
Download our WorldHost booking form, fill out and and return to us by email: info@watsonsmarketing.com.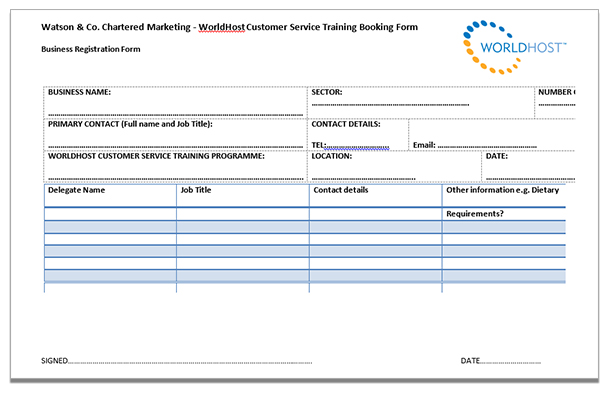 Or contact us at:
E: info@watsonsmarketing.com
T: 07900 881146
You can also download the pass criteria for the course below: