5 reasons to start marketing your business on Instagram today
Instagram has quickly grown into a massive social network with both a mobile and web presence. It shows no signs of slowing down, yet a worrying low percentage of businesses in Northern Ireland currently use Instagram for marketing. If you are not yet using Instagram as a marketing platform, here are 5 reasons why you might wish to rethink your decision.
Acquisition
The Instagram Platform allows you to Reach Instagram Users:
Over 700 million people worldwide use Instagram every single month.
Over 400 million people worldwide use Instagram every day.
50 Million users signed up to Instagram in just 6 months (2016-2017).
To decipher whether your target customers are currently using the Instagram platform you can utilise the Instagram advertising tool (without clicking on the final purchase button) in order to test exact audiences.
Instagram precise targeting options are by:
Location – choose from counties, regions, cities or countries
Demographics – select age, gender and languages
Interests – such as the apps they use, adverts they click on and accounts they follow
Behaviours – you can define your audience by activities they do on and off Instagram
Custom Audiences – you can run adverts to customers you already know based on their email addresses or phone numbers.
Lookalike audiences – you can find new people who are similar to your existing customers.
Automated targeting – you can quickly create an audience who might be interested in your business using a variety of signals, including location, demographics and interests.
Behaviour
80 per cent of Instagrammers follow a business on Instagram.
250 million+ Instagrammers use stories every day.
60% of people say they discover new products on Instagram.
Quite simply people use Instagram to discover, follow or share the brands that they love.
Businesses of all sizes are finding it the perfect place to stand out and tell their story.
Instagram can help you acquire customers both new and lapsed
To convert offline or online customers or prospects eg website visitors to online followers (to whom you are then able to communicate with on an ongoing basis) – you can download the Instagram icon and other brand assets to use on your website, in your shop window and in other marketing material. Brands also often promote their Instagram accounts through custom tabs on Facebook.
Starting an Instagram business account really is quick and easy and it is free. Simply set up your business profile – it doesn't take long. By adding information about your organisation such as business hours, location, phone number, website address and your hashtag (if you have one) you can be found on Instagram and use your profile and content to encourage Instagram users to visit your website or premises.
"The most popular hashtag on Instagram is #love."
Visual content can be incredibly powerful for your business. It helps you showcase your brand and/or brand or business personality. People do business with people and Instagram allows you to communicate behind the scenes pictures and videos to the ready-made audience that you build up over time.
Instagram truly is a highly visual experience. Organisations use visuals to tell their brand, business, product, promotional and/or user stories through photos, videos and captions including hashtag use.
The power of visual content is undoubtedly important for brands. Studies show that the visual appeal matters in 93% of cases when people go to make a purchase. Visual content is not only easier and faster for the human brain to process, it is a great way to generate more attention and leads.
Visual data is processed 60K times faster by the brain than text.
40% of people will respond better to visual information than plain text.
65% of your audience are visual learners.
On Facebook, photos perform best for likes, comments, and shares as compared to text, video, and links.
Photos can make or break your marketing campaign and should be considered highly important.
Even if you are not a photographer and don't have the budget for a professional photoshoot, either initially or intermittently, creating quality content on Instagram really isn't difficult, too time consuming or expensive – you can take professional-looking photos and videos just using a smart phone.
You can use a business Instagram account to educate your current and also prospective customers to other products and services that you offer in order to cross sell and upsell.
Having a business account on Instagram can not only help you start or join relevant conversations online it can also bring user generated content to your content marketing bank. Creating your own hashtag and using relevant hashtags includes your organisation in the mix when an Instagram user clicks on the subsequent hashtag link.
Just one local example of a brand using Instagram to source user generated content is Discover Northern Ireland – in their description/biog they encourage use of the hashtag #DiscoverNI "to feature" – 116,234 individual posts have used this hashtag (as of 18 August 2017).
Having a business profile on Instagram can help Amplify Your Communication.
If you create, share or generate user content that resonates with the audience you truly can captivate current and/or prospective customers, influencers or communities.
Users engaging with your Instagram content through a click or double tap eg heart – which means 'like' are by this very action enabling your content to reach their respective followers or tribes. An active share reaches more than your following and user generated content is even more powerful in reach and potentially more authentic and trusted than brand generated content alone.
If you need inspiration Instagram itself provides examples of captivating campaigns: https://business.instagram.com/inspiration/#captivating-campaigns
https://business.instagram.com/inspiration/#businesses-love-instagram
Conversion
1 million+ advertisers worldwide use Instagram to share their stories and drive business results.
75% of Instagrammers take action after being inspired by a post
Over 60% of users log in daily, making it the second most engaged network after Facebook
Instagram clocks up 3.5 billion likes every day
The average brand sees highest engagement rate on Instagram.
Your Instagram profile can lead to all sorts of conversions including the holy grail of marketing may for profit businesses aspire to: 'sales' as well as customer loyalty and advocacy.
There are many other conversions that can be aimed for and measured.
Instagram highlights the following:
Dave Chaffey's comprehensive list of Digital Marketing Metrics defined within 'brand', 'content' and 'commercial' measures are highlighted below: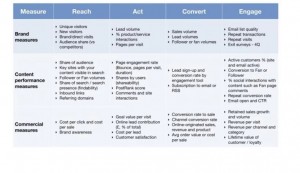 4. Competitive Landscape
Other Businesses out there are already using Instagram:
There are over 15 million businesses now on Instagram. 
Over half of the 15 million businesses on Instagram made an Instagram Story in the past month. This shows that they are actively investing time on the platform, if it wasn't working for them – would they?
Sure, Instagram Stories are currently located at the top of every user's Instagram feed in chronological order – you can therefore see why brands find this method attractive.
Looking at the top 100 brands in the world, 90% have an Instagram account.
If your competitors are already on Instagram – should you not be too?
However if your competitors are not already on Instagram and your prospective customers are then you have the potential to make a greater impact than investments on an alternative platform which has more noise in your strategic space.
Debatable but for some brands and businesses in Northern Ireland it could still be early enough to establish a presence and dominate your niche. By getting on board early (in comparison to your competitors) you can establish your audience before the competition becomes too fierce to get a foothold.
Getting noticed on Facebook can be a challenge for small businesses. With so many businesses using the platform, it can be difficult to get found via on-site search and to differentiate from the competition. In comparison to Instagram's now 15 million business profiles as of July 2017, facebook started the year (2017) with 65 million business pages (4 million of which advertised, even this has increased to 5 million in 7 months).
Get Insights
A business account on Instagram allows you to get insights about your stories, posts and followers. This can bring all sorts of benefits including improving return on investment or saving money.
For example a business could trial content on their Instagram page to their followers to gauge reaction before rolling out creative to expensive offline marketing channels such as billboards.
As well as Instagram user insights (available through the advertising tool) you can also take a look and see what other advertisers are doing on Instagram: https://business.instagram.com/success/#insights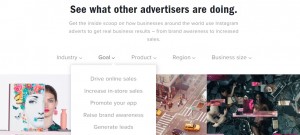 Get the inside scoop on how businesses around the world use Instagram adverts to get real business results – from brand awareness to increased sales.
You can amend your insights search by:
Industry
Goal
Product
Region
Business size
If you are not yet on Instagram or don't yet see results from your Instagram marketing you can join our Instagram for Business workshop at Inspire Business Centre from 6pm to 9pm on 23 August. Tickets can be booked online via: Eventbrite
Investment: £20+VAT
The jam packed session will cover:
Instagram Users
Best Practice in Instagram for Business from over 15 million business accounts on Instagram
Competitor Insights – Practical Activity
How to Use Instagram to Grow Sales – Practical Real Life Examples
Setting your Strategy, Objectives and Metrics
Your Target Audience
Step by Step Guide to setting up your Instagram Business/Brand Page

Top Tips (integration with website/other marketing – business cards, banner stands etc)
Branding
Description Copy and Calls to Action
Common Mistakes to Avoid

Creating Engaging Business and Target Customer Relevant Instagram Content

Hashtag research
No Hard Sell here
Branding
Tone
Content Guidelines: Ad Sizes, Image Standards and the Text Rule
Photos
Instagram Layout
Sharing multiple pictures in the one post
Videos
Boomerang
Instagram stories (24 hour lifetime)
Promotions / Competitions
Calls to Action
Auto feeds into other social media
Engagement (comments)
Growing sales through Instagram Advertising
Analytics and Insights
Content marketing management
Content marketing matrix
Scheduling
Sample contennt calendars
Sourcing content and using it legally
Repurposing content
Curating content
User generated content
Action man and wonderwoman
Amplification strategies – traditional and digital PR and microinfluencers
Please note that this is not an exhaustive list and it is all covered in brief over a 3 hour timeline
Your trainer for the Instagram workshop – Chartered Marketer: Christine Watson reserves the right to add to the above learning objectives based on Instagram changes that may occur between now and 23 August and/or light bulb moments between now and then!
Further Reading:
http://www.smartinsights.com/digital-marketing-strategy/race-a-practical-framework-to-improve-your-digital-marketing/
https://business.instagram.com/success/#insights
https://get.simplymeasured.com/2017-07-12-State-of-Social.html#sm.000005kfrcvf9nfamwj96tgx0titf
https://www.brandwatch.com/blog/37-instagram-stats-2016/
https://smallbiztrends.com/2017/03/instagram-engagement-rate.html
https://sproutsocial.com/insights/instagram-stats/
http://uk.businessinsider.com/facebook-adds-a-million-advertisers-in-7-months-2017-4?r=US&IR=T