Digital Sanity Supper Club no. 2 – 23 October 2017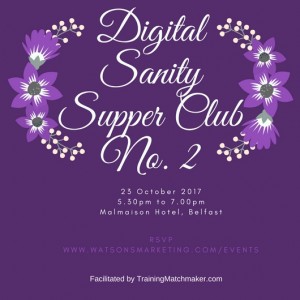 Digital Sanity Supper Club no. 2 took place at the Malmaison Hotel in Belfast on 23 October 2017.
Facilitated by Chartered Marketer Christine Watson and TrainingMatchmaker.com the #DigiSanity concept has been invented in order to:
i Enable peer to peer learning – digital marketing practitioners and trainers focused on the very latest changes in digital platforms – we had a list of 40 (and I'm sure this could've been added to) compiled just from September Supper Club to our October date i.e. It's been created to help us keep our awareness, knowledge and skills up to date given how fast the changes are coming at us all
ii Encourage local networking and collaboration for a like minded bunch of professionals in digital marketing and those delivering digital marketing training – a potential support system if you will (or better still professional friendships). They do say if you break bread together … and we get to enjoy some very fine Malmaison dining
iii Inspire our Digital marketing practitioners and trainers to stay ahead of the game. Sharing and hearing stories of real life implementation of the very latest tactical (and sometimes strategic) changes across digital platforms
So, of the 40 changes we entered the Supper Club having scribed in advance – that is should we, as facilitator, ever find the conversation run dry (would that ever be likely with a table of diners from our locale?) we managed to discuss the below 21 alongside eating our supper, supping our fruit infused water or wine and hearing from our Soap Box Slot Speaker Ciaran Connolly of Connolly Cove on Google Maps – which now allows video to be added as well as a brief touch on Pinterest. Ciaran had just returned to Belfast from the Google Local Guides 2017 Conference in San Francisco – he was invited to attend as the top contributor from Ireland.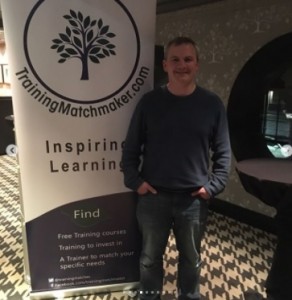 As a Local Guide (Level 8, with 47,996 points) Ciaran has contributed 7,500 photos from Ireland and Northern Ireland to Google Maps, adding 182 places and has between 1 and 1.5 million views per week. ConnollyCove You Tube Channel has also posted more than 300 videos and achieving 608,279 views since February 2017.
Changes in Digital September/October 2017 – Discussion Items at Digital Sanity Supper Club
Peer to Peer Learning from Digital Sanity Supper Club Member: 
Google Maps
Google Maps now allows users to upload videos from an android device
Google Maps allows businesses to add in an offer that is timed
Google Local Guide growth from 5 million to over 50 million in less than 1 year
Google Maps v Trip Advisor
You can request to loan the Google Street View Trekker
The gamification of Google Maps – Local Guides earn points, points bring rewards such as more storage space etc

2. Pinterest
Peer to Peer Group Learning / Discussions: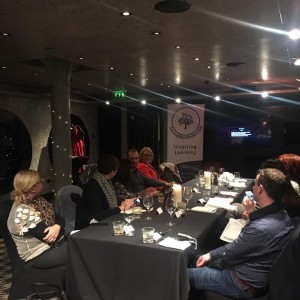 Instagram Polls
Facebook Trials of Facebook Explore
Snapchat Context Cards
HTTPS & SEO
Twitter increasing character count to 280 characters
Facebook Authorship for Journalists –  were we aware of it? has it now been ditched?
Getting Verified on Twitter
Google Search Console
Pinterest adds search ads
Instagram shopify tags enabling in-stream purchases
Snapchat Education Courses for Marketers
Snapchat like frames for Events available on LinkedIn
Facebook Workplace – collaborations with other businesses
# Hashtags on Pinterest
94% of Smartphone users holding the phone vertically and the impact on horizontally filmed video and photos
150,000 Snapchat Spectacles Sold
Facebook TV – NFL partnership
Twitter TV and commitment to 16 Live Shows
Top Influencers using snapchat 33% less
Instagram hitting 800million active users
Whatsapp for business – piloting ads and its 1 billion regular users
NextDoor App
Additional Discussions:
Google 360 Degree photos
Snapchat Geo Filters for Brands or personal use and the cost variances
The Stickiness of Instagram
User generated content on Instagram
Swipe up to buy on Instagram for 10,000 followers or more
Panoramic Photo uploads to Facebook
Candi Software
Muted Conversations
Ad Blockers
Google Maps being a tool to save you slaving over mileage forms
Video adverts on facebook blasting return on investment results
Keyword Ranking
Url Click through website links and their impact on facebook reach
The significance of online reviews and the importance of responding to all reviews – positive with brand keywords and negative (but without brand keywords) as organisation responses are visible as well as the review
The week of Digital by BBC in Belfast 11-17 November
The launch of Fascinating Company by Rosemary and Ashleigh
The implications of staff faces being within video content uploaded to Google Maps
The frequency of the Google Street Car
During the Digital Sanity Supper Club both Emma Gribben and Chris Love contributed as Local Guides to Malmaison hotel – Emma got 10 points and level 1 and Chris achieved 16 points!
The next Digital Sanity Supper Club takes place in the private dining room of Malmaison Hotel in Belfast on 27 November. £25 ticket includes a 2 course meal and a cocktail. The Soap Box Slot will be by Emma Gribben – Google Trainer and her focus will be on Google Search Console and Snapchat Context Cards.
Indeed we committed to bringing along a pair of SnapChat Spectacles to the session – maybe Ardmore might loan us them? If anyone in Ardmore sees this blog – that would be really very kind of you and your Digital Marketing Practitioners would be very welcome to become #DigiSanity Supper Club members too.
In December Digital Sanity Supper Club does Festive Afternoon Tea on 18th at the Malmaison Hotel from 3.30pm-5pm and we aim to co-create a round up of the year from our Supper Club members.
In January Digital Sanity Supper Club member Paul McGarrity will  take the Soap Box Slot and chat to us about all things Pinterest.
What we didn't have time to cover in our discussions:
Facebook Stories being opened up to Brand pages on facebook
Making branded custom frames in facebook
Polyvore
Shapr – LinkedIn meets Tinder apparently!
Twitter – new bookmark feature
Twitter lifespan – apparently just 18 minutes lifespan on average per tweet
Twitter Tweetstorm feature
Ads on YouTube
You Tube Channels
Facebook testing new subscription option in instant articles
Facebook testing our image based search for related products
Messenger Lite which takes up less and 10MB on your phone and can run on 2G
New Creative Dynamic Tool on Facebook (A/B Split Testing)
LinkedIn Business – Company Pages
Facebook – paypal within messenger
New SEO tool: SiteBulb
Chat and Chat Bots
Google new editing tools – a business can now edit how it appears in search results from within the search results
We also learned about who the thought leaders our Digital Supper Club Marketing Practitioners and Trainers respected and were following in order to keep their knowledge up to date:
The Trusted Thought Leaders of the Digital Sanity Supper Club Diners:
Feedly was again mentioned in terms of keeping abreast of the very latest changes and best practice in Digital marketing.
With thanks to every single Digital Sanity Supper Club delegate for your contributions and a special thanks to Ciaran Connolly for being our Soap Box Slot Speaker and of course our venue hosts Malmaison hotel for our fruit infused water and chocolate gift surprises – not to mention the fine dining, service and private venue.
'Til next time
Blog scribed by Digital Sanity Supper Club facilitator: Chartered Marketer Christine Watson