Tuesday Tip – Go Spy On Your Competitors
As a Chartered Marketer and SOSTAC Certified Planner our role is 'proper' marketing, not just the ever popularised marketing communications which is too often confused with what 'marketing' actually is and how much it encompasses.
As part of our work we scan the internal and external environment seeking insights that we can feed into recommendations for our clients and, if approved, action plans.
When carrying out the initial stages of SOSTAC planning we utilise many different resources available to us including digital tools. For this week's Tuesday Tip we share our top three, namely:
iSpionage
Facebook Ads Library
Market reports such as Mintel via the InvestNI Business Information Centre library resource
1. iSpionage
Since delivering strategy work for Lough Neagh Partnership way back in 2013, we have been using ispionage for insights.
Digital benchmarks from large players showcase PPC advertising spend and keywords, SEO – organic keywords and show the actual copy, imagery and website landing pages behind this digital investment. If you have not used ispionage before then pop in a query of ireland.com or asos.com – they do say learning by doing is one of the best ways to learn, don't they?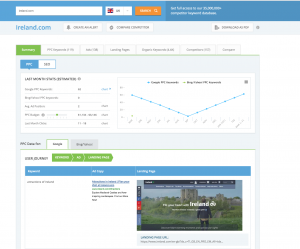 A quick look at Ireland.com this morning (20 April 2021), UK search, so that we can showcase to you the kind of intelligence that this audit activity provides, shows that Tourism Ireland have 119 PPC keywords, 138 Ads, 4,400 organic keywords for SEO and 157 digital advertising competitors. Their pay per click (PPC) budget is also charted.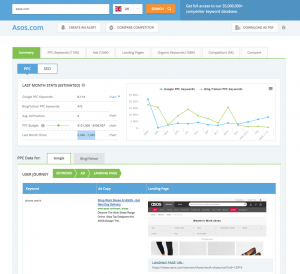 For anyone working in fashion retail, a look at asos.com, UK search, reveals that they have spent $121,400 – $336,907 in PPC advertising in the past month, investment which returned them 4,496 – 7,489 clicks. iSpionage also shows that they have 110,000 PPC keywords, 104,000 Ads, 108,000 organic keywords for SEO and 5,000 digital advertising competitors!
2. Facebook Ads Library
When we deliver training we always add in additional bonus signposts. Our last instagram for business – advanced training workshop delivery for Ormeau Business Park included a signpost to the Facebook Ads Library feature. This functionality used to be within facebook but it now stands alone.
After the Ireland election, out of curiosity, (and also probably because we once went to a CIM Ireland event on board a ship that presented O'Bama's digital approach, presented to the local professional marketing community by Niall McKeown if we remember correctly), we reviewed the facebook ad spends, creative and approach by each of the key political parties. At the time we even tweeted about it.
Anyway our latest piece of strategic work for a tourism operator pulled in the actual facebook advertising – copy, graphics and all of Visit Belfast, Tourism Ireland and Discover NI.
So, if you don't have budgets large enough to employ facebook advertising expertise and creative advertising graphic designer expertise, then do make sure you take the to learn from those who do.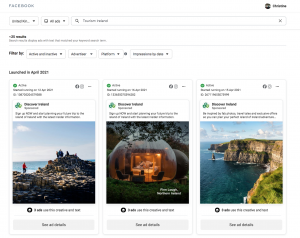 A quick look at Tourism Ireland this morning (20 April 2021) so that we can showcase to you the kind of intelligence that this audit activity provides, shows that Tourism Ireland have 25 facebook adverts that can be reviewed for learnings.
3. Market Research Reports
The InvestNI Business Information Centre provides Northern Ireland companies with access to market intelligence. It is a resource that I utilise on a very regular basis. In the past, pre covid19, I have physically booked into the library and accessed up to £30,000 worth of market reports for all sorts of clients. From the luxury jewellery retailing to beauty and personal care retailing to reports on bathrooms as well as social media marketing usage in Ireland and influencer marketing reports. For me personally, it is a process that takes much time and attention but one that not only helps me to understand different industry sectors and marketing approaches better but one that highlights trends and triggers me to come up with a plethora of marketing campaign ideas as a result of many of the insights.
Due to Covid19 lockdown restrictions the InvestNI Business Information Centre is currently available, to a limited extent, on a remote basis and you can find out more on the InvestNI website landing page dedicated to this service.
We could of course go on but the above 3 ways and means to help you with your situation analysisand you marketing planning, are always a good start when seeking insights.
If this blog has whet your appetite for research don't forget that we have already shared the magic of Facebook Pages to Watch – do note that this is set to disappear along with facebook analytics on 30 June 2021 so you may wish to download all your analysis before July, cue diary dates being entered all across the marketing land!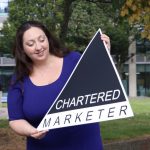 The Watson & Co. Chartered Marketing Tuesday Tip was brought to you by Chartered Marketer and SOSTAC Certified Planner Christine Watson. If it has helped you gain insight or learning do let us know – it took about an hour, on just one cup of filter coffee, to scribe this blog (8am – 9am, 20 April 2021) and we do hope that it helps you with your marketing planning.
If you need help taking a strategic approach to your marketing we can provide a SOSTAC Certified Planning consultancy and/or mentoring and training service.
If we at Watson & Co. Chartered Marketing have helped you in any way, (we have been floating around since 2005!), then we would really appreciate if you would take the time to leave a positive review for us on Google reviews.