Instagram Influencers in Northern Ireland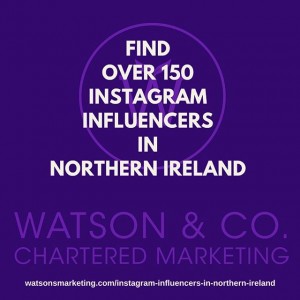 Influencer marketing was destined to explode in 2017 and Instagram is one of a number of social media platforms perfect for Influencers to share brand content as a result of a trigger. Blogger or celebrity content can come via a business request or it can be self generated and unprompted in order to share an Influencers love or frustration with brands and businesses.
Influencer marketing involves targeting the influential people that your ideal consumers (buyers) follow, may look up to, trust or wish to emulate.
If done right, influencer marketing can have unparalleled sales, growth and equity results for brands and generate unmatched ROI (Return on Investment) for marketing budgets.
To give a flavour of Influencer marketing in Northern Ireland we have listed over 150 of the many local influencers (media and bloggers) that can be activated in support of your brand. You can also find practical examples and lessons from a few of the local Instagrammers currently engaging with Northern Ireland businesses.
If influencers such as Liam Neeson,  Rory McIlroy, Kim Kardashian and other celebrities and sports stars are officially out of reach for your brand, given 'paid for' sponsorship costs, appearance fees or the commercialisation of their social media communications, influential local bloggers, influencers and micro influencers can be useful in distributing your brand message. The quality not quantity lesson can ring ever so true in Influencer marketing. Not all of these local bloggers charge, many are happy to create content on their platforms and distribute to their audiences if asked, if they receive a freebie in the post or a compelling invite to a brand event in their inbox or if they simply love your brand, business, event, product or service and want to share their discovery with their followers or tribes.
Whilst Cristiano Ronaldo earns £310,000 per instagram post, businesses should never underestimate the importance of Agile Marketing in pursuit of Influencer marketing: A picture of Jamie Dornan at the Irish Open golf tournament sent "Tourism Northern Ireland's social media engagement off the charts" (as reported by Paul Coleman Social and Digital Manager of Tourism Northern Ireland at a CIM Ireland Tourism Marketing breakfast, August 2017). Said post that was reported online can be viewed below: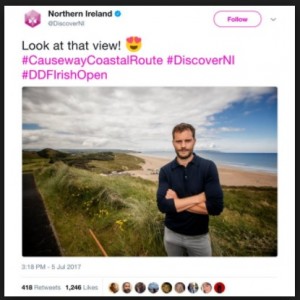 The Influencers/Bloggers active in the Northern Ireland market place
Our advice is to look at this list alongside print, broadcast media and other brands that you could potentially partner or collaborate with for mutual gain. Think of Discover NI, Visit Belfast, Barra Best BBC Weatherman who reposts scenic pictures depicting the weather across Northern Ireland, NI Business Info who promote business events, Business First Online, Joris Minne (PR professional and Restaurant Review Critic for the Belfast Telegraph) and many more who have established audiences or followers on Instagram or indeed other social networks who value their content.
Northern Ireland Bloggers on Instagram:
NI Media on Instagram
Whilst the NI Blogger scene is growing and some content for brands is of superb quality it is worth marketers not forgetting about traditional media and their respective journalists across broadcast, print and online.
An Influencer strategy or campaign is about choosing the right Influencers after all and I would caution any organisation who would neglect to extend a mail sampling campaign or indeed a blogger event invite to relevant journalists reaching their target audiences alongside the right bloggers.
Broadcast Media:
Print Media:
Online Media:
Belfast Live November 2017: 8,943 followers, June 2018: 13,600 followers, +52%
NI Business Info November 2017: 247 followers, June 2018: 1,006 followers, +307%
NI lifestyle November 2017: 2,359 followers, June 2018: 2,764 followers, +17%
Property News NI November 2017: 1,344 followers, June 2018: 1,442 followers, +7%
Property Pal November 2017: 1,893 followers, June 2018: 2,717 followers, +43.5%
Whats On NI November 2017: 1,118 followers, June 2018: 1,171 followers, +5%
BAM November 2017: 224 followers, June 2018: 283 followers, +26%
NI Travel News November 2017: 393 followers, June 2018: 625 followers, +59%
Pure Northern Ireland November 2017: 4,735 followers, June 2018: 4,728 followers, -0.1%
Culture Northern Ireland November 2017: 1,085 followers, June 2018: 1,428 followers, +32%
Best of Belfast November 2017: 17,600 followers, June 2018: 20,000 followers, +14%
giggingnorthernireland June 2018: 5,533 followers
culturehub_magazine June 2018: 547 followers
culturenorthernireland June 2018: 1,428 followers
Bout Yeh May 2019: 16,800 followers
Sync NI May 2019: 780 followers
Journalists/Commentators:
Tina Calder, November 2017: 1,310 followers, June 2018: 1,311 followers, +0.08%
Alan Meban- alaninbelfast, Theme: Business, Was: 402 followers, June 2018: 507 followers, +26%
Trade Press/Industry Bodies:
Food NI November 2017: 1,172 followers, June 2018: 1,421 followers, +21%
Hospitality Ulster, May 2019: 83 followers
Hospitality Review NI, May 2019: 303 followers
Retail NI, May 2019: 573 followers
NICVA, May 2019: 290 followers
NI Chamber, May 2019:  852 followers
Linen Alive NI, May 2019: 594 followers
Destination Marketing Organisations (Travel and Tourism Influencers):
Tourism Ireland, May 2019: 451,000 followers
Tourism Northern Ireland – Discover NI, May 2019: 51,300 followers
Visit Belfast, May 2019: 31,800 followers
Visit Derry, May 2019: 7,469 followers
Visit Portrush, May 2019: 864 followers
Visit Causeway Coast and Glens, May 2019: 4,066 followers
Visit Bangor, May 2019: 1,228 followers
BIDs – Business Improvement Districts:
Linen Quarter May 2019: 1,009 followers
Cathedral Quarter May 2019: 2,066 followers
Caution: Whilst the debate about fake influencer marketing rages on, (an influencer marketing shop created fake accounts to prove that the industry is full of ad fraud!) your job as a marketer is to assess the quality and credibility of the Influencers you are targeting – make sure they will be on brand for you and enable you to access your ideal target market (buyers).
Digital marketing is as simple as ABC:
Acquisition
Behaviour
Conversion
If engaging Instagram influencers helps you meet your business objectives, when will you start and how? If you are already using Influencer marketing successfully don't be shy about sharing your learnings with us for consideration in future editions of this blog post and for the benefit of our local marketing and business community here in Northern Ireland. Contact Us.
Your Instagram influencers in Northern Ireland blog was scribed by Chartered Marketer Christine Watson on 21 August 2017. Research was carried out by Chantal in August 2017. Verena Neumann contributed to this blog on 2 October 2017 adding an additional ten bloggers following Christine's attendance at #NIBloggerBrunch and even more throughout October. Following messages via Instagram, facebook, LinkedIn, Twitter and Email – Christine returned to rise the NI Bloggers list to over 110 on 1 November 2017 and began adding NI Media on Instagram on 3 November.  More new additions on request on 25 April 2018. Research by Franziska Dochan on 11 and 14 June 2018 rose the number of NI bloggers to 126 and on 14 June we started investigating blogger follower growth rates and added a few more influencers as well as a Journalist/Commentator category.  Latest editions – 20 May 2019 and 12 June 2019.
It is not an exhaustive list and we know that there are more than 150 influencers in Northern Ireland on Instagram and the landscape does of course change all the time. If you are a local influencer in Northern Ireland and wish to be added to this listing do let us know via Facebook, Twitter or LinkedIn – we would be delighted to receive your best examples and lessons too.
Businesses and Brands: If you are not yet on Instagram or don't yet see results from your Instagram marketing you have now missed our sold out Instagram for Business workshop at Inspire Business Centre which ran from 6pm to 9pm on 23 August 2017, also our first Instameet Belfast Bootcamp for Business Instagrammers, on 8 September 2017 and on 21 June 2018 alongside the content creation bootcamp in association with Tina Calder as well as our crash course at Mallusk Enterprise Centre on 26 October 2017 and September 2018.
Our Crash Course on Sales Focused Instagram for Business is available to hire by local councils, enterprise, membership organisations & more.
Chartered Marketer – Christine Watson is accepting expressions of interest and is willing to arrange an open access course to suit demand – Contact us to be added to our open access course request list.
Traditionally a jam packed 3 hour session covers:
Instagram Users
Best Practice in Instagram for Business from over 25 million business accounts on Instagram (a rise from 15 million in July 2017)
Competitor Insights – Practical Activity
How to Use Instagram to Grow Sales – Practical Real Life Examples
Setting your Strategy, Objectives and Metrics
Your Target Audience
Step by Step Guide to setting up your Instagram Business/Brand Page

Top Tips (integration with website/other marketing – business cards, banner stands etc)
Branding
Description Copy and Calls to Action
Common Mistakes to Avoid

Creating Engaging Business and Target Customer Relevant Instagram Content

Hashtag research
No Hard Sell here
Branding
Tone
Content Guidelines: Ad Sizes, Image Standards and the Text Rule
Photos
Instagram Layout
Sharing multiple pictures in the one post
Videos
Boomerang
Instagram stories (24 hour lifetime)
Promotions / Competitions
Calls to Action
Auto feeds into other social media
Engagement (comments)
Growing sales through Instagram Advertising
Analytics and Insights
Content marketing management
Content marketing matrix
Scheduling
Sample content calendars
Sourcing content and using it legally
Repurposing content
Curating content
User generated content
Action man and wonderwoman
Amplification strategies – traditional and digital PR and microinfluencers
Please note that this is not an exhaustive list and it is all covered in brief over a 3 hour timeline.
Your trainer for an Instagram workshop – Chartered Marketer: Christine Watson reserves the right to add to the above learning objectives based on Instagram changes that may occur between now and the training delivery date and/or light bulb moments between now and then!
Blog created 21 August 2017. Ongoing additions and amends. Latest edition – 20 May 2019.