Top Hashtags for Tourism Marketing in Northern Ireland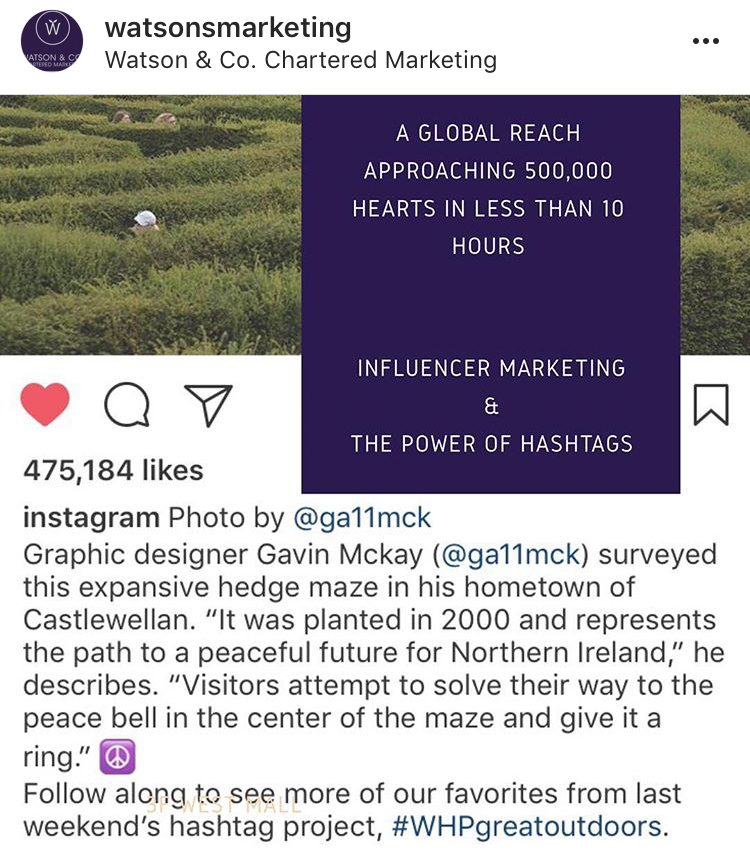 The Power of Hashtags in Tourism Marketing in Northern Ireland
Using hashtags in your content marketing can help your content not just be found but hashtag marketing can also help your online content be redistributed by influencers, heck it can even make your content go viral.
Northern Ireland businesses, organisations and marketers operating within the sphere of tourism should be aware and consider the relevance of the following hashtags in their online content. Moreover they should also consider whether the creation and communication of their own brand or campaign hashtag could enable their marketing to benefit from user generated content too.
Hashtags beneficial to Tourism marketers in Northern Ireland
#DiscoverNI – created and managed by Tourism Northern Ireland – if you use hashtag: #discoverni on your instagram photos you are enabling Discover NI to feature your photos. Discover NI have 40,500 followers on Instagram. This hashtag has been used in 168,000 posts to date.
#LoveIreland – created and managed by Tourism Ireland – if you use hashtag: #loveireland on your instagram photos you are enabling Tourism Ireland to feature your wonderful images. Tourism Ireland have 306,000 followers on Instagram. This hashtag has been used in 371,000 posts to date.
#WHPxxx – Instagram's Weekend Hashtag Project. The theme changes every week. Keep an eye on Instagram's own Instagram account on Instagram to be informed of the latest theme. Hillsborough photographer and graphic designer Gavin McKay used #WHPgreatoutdoors on his content and achieved a global reach approaching 500,000 engagements in the form of instagram 'hearts' or likes in less than 10 hours and much more since. Do note that your description or copy can be as important as your image. Do see Instagram as a visual storytelling platform. Instagram currently have 235 million followers on instagram! The #WHPgreatoutdoors hashtag was used in 20,311 posts – not a bad result for one weekend!
#NIExplorer – created and managed by blogger NIExplorer – if you use hashtag: #NIExplorer in your content you may feature in his FanPicFriday content distribution. The NIExplorer audience on instagram is currently 6,291 followers. This hashtag has been used in 3,345 posts to date.
#OnGoogleMaps – created and managed by Google – if you use hashtag: #OnGoogleMaps your content has the potential of being featured on the GoogleMaps instagram channel. Googlemaps on instagram have 814,000 followers. This hashtag has been used in 79,300 posts to date.
#VisitBelfast – owned and managed by Visitor Information Centre Visit Belfast – if you use hashtag: #VisitBelfast in your posts their instagram account states that you are giving permission for Visit Belfast to share your photos. Visit Belfast have 24,600 followers on Instagram and the #VisitBelfast hashtag has been used in 33,900 posts to date.
#ThrowbackThursday – a generic hashtag that supports an engaging trend in content marketing that can trigger an emotion of nostalgia with your audience. It can also enable you to legitimately distribute content that you simply didn't get the chance to post at the time – as is expected on Instagram i.e. 'Insta'-gram. There have been 41.4 million posts on instagram using the hashtag: #throwbackthursday
#GuardianTravelSnaps – by Guardian Travel. The Guardian Travel Snaps instagram page, with 248,000 followers, states "Tag your snaps with #GuardianTravelSnaps and we will feature the best." 1.1 million instagram posts have been tagged with the hashtag #GuardianTravelSnaps.
#BBCTravel #LoveTheWorld – by BBC Travel who have 1.3 million followers on Instagram. BBC Travel instagram page states: "Use #BBCTravel or #LoveTheWorld for a regram of your journeys.". #BBCTravel has been used in 2.9 million posts. #LoveTheWorld has been used in 849,000 instagram posts.
#EarthCapture by BBC Earth instagram page. This hashtag has been used 513,000 times.
#YourShotPhotographer – Hashtag by National Geographic's instagram page: NatGeoYourShot which has 948,000 instagram followers. Their instagram description states: "We are your shot – @natgeo's photo community. Let's tell stories together. #YourShotPhotographer." 1.2 million instagram posts can be found on the #YourShotPhotographer hashtag.
#NGTUK – by @NatGeoTravelUK instagram page has 39,100 posts
#LonelyPlanet – by Lonely Planet Instagram Page, with 1.8 million followers, states: "Tag your shots w/ #LonelyPlanet #LPFanPhoto #MyLPGuide". The #LonelyPlanet hashtag takes you to 6.9 million pieces of content on Instagram. #LPFanPhoto has 330,000 individual posts and #MyLPGuide has 60,500 instagram posts.
#NTChallenge – by The National Trust (one of Watson & Co. Chartered Marketing's many WorldHost training clients) has 68,500 instagram posts using their hashtag. They also use the hashtag #NationalTrust in their Instagram Bio – this hashtag links you to 971,000 individual posts.
 #LoveGreatBritain – by the British Tourist Board, who have 381,000 followers on their LoveGreatBritain instagram channel, state: "Tag #LoveGreatBritain to allow us to share on our channels". 851,000 posts on instagram have followed this instruction.
#GoPro by GoPro state on their instagram page – Share with #GoPro. This hashtag has been used 35.9 million times
#RepostMyFujiFilm by FujiFilm. This hashtag has been used in 78,600 individual pieces of content on Instagram.
#CNNTravel – by CNN Travel, an instagram page with 393,000 followers, state: "Tag #CNNTravel in your photos to be featured our page!". This hashtag has been used 253,000 times. An especially relevant hashtag if you are targeting American awareness of your destination and/or tourism business.
More localised hashtags to consider when tourism marketing from Northern Ireland:
#BelfastCC – by Belfast City Council (one of Watson & Co. Chartered Marketing's many WorldHost training clients) – 529 posts
#MEAdventures – by Mid and East Antrim BC – 690 posts
#TQEventsBelfast – by Titanic Foundation Ltd (another one of Watson & Co. Chartered Marketing's many WorldHost training clients) – 533 posts. Presumably assisted by physical signage during events in Titanic Quarter such as the Belfast Maritime Festival
#VisitBangor – 348 posts
#BelfastCoffeeMap – 521 posts
#ExploreBelfast – 5,514 posts
#BoutYeh – 5,040 posts
#VisitPortadown – 241 posts
#WalkNI – 6,126 posts
#LoveQUB – 5,239 posts
#PureNorthernIreland – 26,050 posts
#TasteTheGreatness by Food NI – 682 posts
The only thing guaranteed in life is change
Do remember that instagrammers can now choose to follow hashtags on instagram as well as instagram accounts so don't underestimate hashtag marketing in your content marketing plans and activities.
Seeking more hashtags for your content?
Do note that there is an optimum as well as a maximum number of hashtags you can and should use in your content marketing and this differs per platform or channel. Take a look at the further reading below to find out more.
Tools such as Hashtagify.me can open up new possibilities also. Have a go – take a look at the instagram posts of a competitor you deem effective with their social media marketing activity, what hashtags are they using? Type a few into Hashtagify.me and glean some insights to apply to your own content marketing going forward.
Following our first distribution of this listicle blog we received some great feedback on LinkedIn noting the language differences in tourism marketing. Whilst language variations do exist and are used they are ideal when targeting a specific geographic location. Examples include: #InstantIrelande by TourismeIrlandais which has generated 1,930 posts, #DescubreIrlanda links you to 7,882 posts and #Turismoirlanda by Tourismo Irlanda which has generated 3,030 posts.
It takes time to write content so if you found this blog useful please tell others in person or via a share. If you have found benefit from adopting our advice and tips please tell us and/or tell others – you can review us on Google reviews, facebook reviews, by leaving a LinkedIn testimonial or simply emailing us.
Further reading in the area of Hashtag Marketing:
https://socialmediaweek.org/blog/2017/09/effectively-use-hashtags-social-media-marketing/
https://www.socialmediatoday.com/news/everything-you-need-to-know-about-hashtags/517028/
https://sproutsocial.com/insights/hashtag-marketing/
https://sproutsocial.com/insights/how-to-use-hashtags/
https://hootsuite.com/en-gb/resources/guide-to-hashtags
https://instagram-press.com/blog/2017/12/12/now-you-can-follow-hashtags-on-instagram/
Further reading in the area of Instagram Marketing
https://www.watsonsmarketing.com/5-reasons-to-start-marketing-your-business-on-instagram-today/
https://www.watsonsmarketing.com/instagram-for-business-examples-from-northern-ireland-brands/
Hashtags work across multiple social media platforms. An example of this would be Localised or Sectoral Twitter Hours for example #BelfastHour – We even have a whole other blog on this: https://www.watsonsmarketing.com/twitter_hours_ni/. Hashtags such as #JournoRequest can be especially useful to keep a social listening eye on too – you never know what online and/or offline coverage a relevant response to a #JournoRequest could bring to your tourism organisation.
Blog created 15 May 2018 by Chartered Marketer, Licensed WorldHost Trainer and WorldHost NI Ambassador Christine Watson. We have started this listicle with 7 hashtags that could help your content marketing efforts but there are many more than this so do expect new hashtags to appear as time goes on. We added 5 more including a nod to language variations on 2 June 2017.
If you know of a hashtag that we should include don't be shy about contacting us via our social media or directly by email using our contact us website form.
WatsonsMarketing deliver training and mentoring in all areas of marketing including digital marketing. Our next Crash Course in Sales focused Instagram for Business workshop is in Belfast on 21 June, followed by a Content Creation workshop as part of our #InstaMeetBootcamp.
If you have a training or mentoring requirement in this area or others we would love to hear from you.